Wedding Venue Stories, Oak Hill Farm: Oak Hill is located nineteen miles (25 minutes) east of Galena, Illinois off historic Stagecoach Trail, near Apple River, Illinois. This gorgeous venue is 2.5 hours from Chicago, 1.5 hours from Madison and 2 hours from the Quad Cities. Nerdy wedding facts: Illinois hosts over 70,000 weddings a year, ranking 7th in the U.S. for most weddings per year! Becky Riedl shares her wedding story and shows us what it's like to run this incredible wedding venue in Illinois! Oak Hill farm seamlessly blends modern and historic buildings along with so many lovely natural elements. Please read along to learn more about Becky & her family farm and enjoy the valuable insight she offers of wedding venue business success!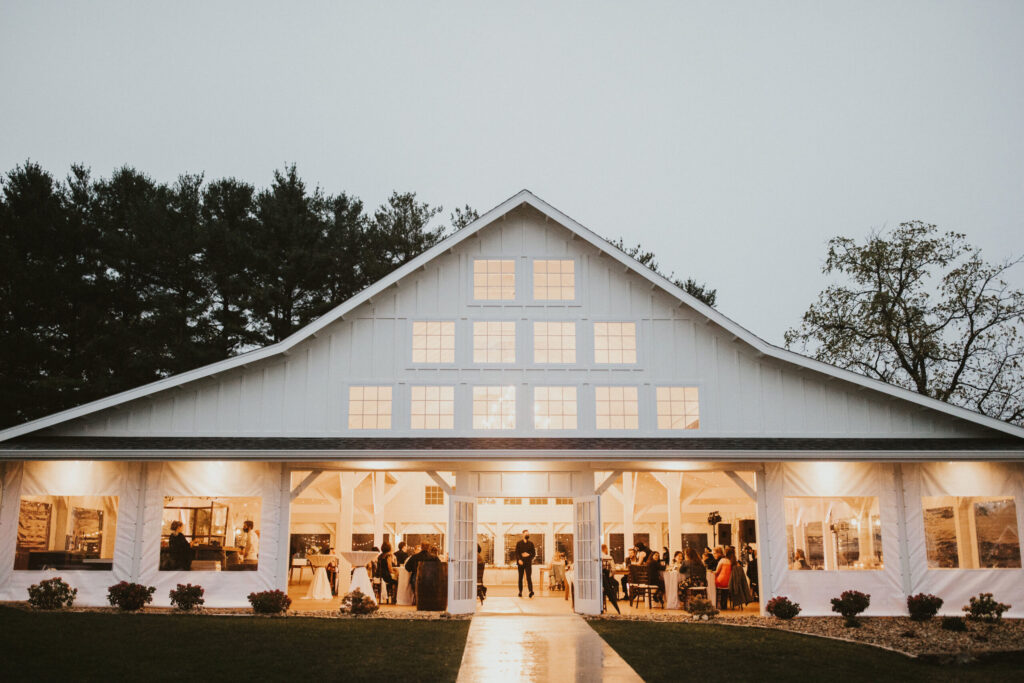 Wedding Venue Stories, Oak Hill Farm: Hello and thank you for your interest in our venue, Oak Hill Farm! We have been in operation since 2000, which seems hard to believe. We kind of fell into the business and it is actually quite a long story, so bear with me. Our venue is located on property that has been in my family for close to 50 years and was our weekend and summer home as I grew up. My parents named the property Oak Hill Farm due to the abundance of majestic oaks that preside over the grounds.
When my family acquired "the farm", as we affectionately called it, the buildings were all falling apart and the grounds were a disaster. It was through many hours of hard work and dedication that the historic barns and farmhouse were brought back to life. During that time, my parents fell in love with collecting antiques and joke that it was a hobby that went out of control. They went to auctions every weekend and collected everything from horse-drawn farm equipment to old schoolhouse items to everything one would find in an old general store. They eventually moved a one-room schoolhouse to the property and filled it with their collection as well as re-created a country store. My mother and daughter wrote my mother's memoir during COVID and had their book, "The Farm", published. It is available for purchase at Amazon and Barnes & Noble.
The plan was for my parents to retire at the farm, but my father fell ill and passed away quickly after a short bout with cancer. His wishes were to be buried on the farm and my mother and I were determined to make that happen. We contacted the county board to ask for a permit for a family cemetery and we were promptly denied. We worked hard to overturn that decision and during that period of time, a rumor spread in the community that we needed a church on site to fulfill the demands of the county. While this wasn't the case, we were intrigued by the idea of having our own church as my husband and I were engaged at the time and planning our wedding on the farm. As fate would have it, we did acquire the permit for the cemetery and we also were able to move the church to the farm in time to restore it for our wedding, which was in June 1998.
After our wedding, we decided to move to the farm full-time. We both had careers in the Chicago area but decided to relocate and work remotely, which was barely heard of back in 1999. Soon after we moved, we began to get inquiries from people about getting married on our farm and in our church, mostly a result of our wedding gaining some media attention due to the church restoration and move (it traveled 14 miles on the back of a makeshift semi-truck over hilly and windy roads!). At that time, wedding venues weren't even in existence so this was completely unexpected.
My husband ran with the idea and created a website and encouraged me to sign up for a local bridal show in our nearby town, Galena, Illinois. We both had the service business in our blood, a result of working (and meeting one another!) at the Ritz Carlton Chicago. I had always wanted to own a small business and have a large family and we were on our way (baby Emma, now almost 22, was just six months old when we booked our first wedding). We started with just ceremonies, then added cocktail hour and eventually moved into full receptions. We rented a tent for years, finally invested in our own tent and poured a concrete floor. We now have a beautiful pavilion that replaced the tent. We added something new every year (we still do!) and grew along with the trend of barn weddings, farm weddings and outdoor ceremony and receptions.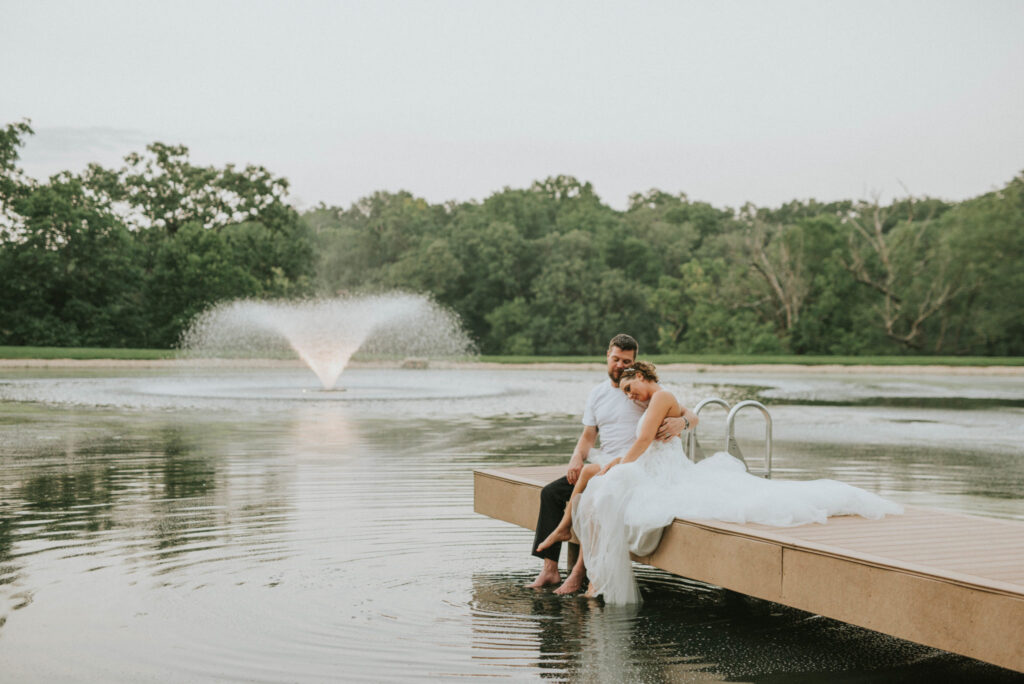 We learned a lot along the way…heating and cooling, permits, septic tanks, parking, providing ice, refrigeration, constant landscaping/painting/building repairs, purchasing equipment, insurance, etc. Our top improvements include:
A concrete floor for under our tent (now we have a pavilion that replaced our tent)
Purchasing our tent – rentals are NOT the way to go
Building the pavilion and replacing the tent!!
Putting in a parking lot (a muddy parking area does not book weddings)
Clean, modern bathrooms
We have definitely made some mistakes over the years, the biggest of which is the pitch of our concrete floor. We poured it back in the days of owning a tent and rather than pitching it from the center, it was all pitched slightly downhill. The tent poles were on the concrete, resulting in rainwater coming off the tent roof, dropping onto the concrete and then running across the entire floor. It was a nightmare for years. The new pavilion has gutters and a 3' overhang all the way around the concrete and voila! The floor stays dry (oh happy day!).
We now have four outdoor ceremony locations, a restored barn for the Bridal Suite, a brand-new Groom's Quarters, an historic chapel and a brand new pavilion (yayyyy!!). We learn something new every season (we only operate late April – early November) and still add questions to our checklists and items to our "to do" and "to purchase" lists.
I absolutely LOVE meeting new couples every year and learning about their story, goals and dreams. I also love the freedom I have to invest in what I see as the next trend, to work all hours of the day and night but to take time off when I so choose (well, almost when I choose!).
We worked every event from start to finish for many years and as we grew, we hired more staff and had more freedom. Along the way, we had four amazing children in the span of 5 years. They literally grew up at a wedding venue and it was amazing! In 2014, I worked my last "night shift", i.e. working until the wedding ended at 11pm (side note: ending at 11pm is the best decision we ever made!). I was diagnosed with breast cancer and needed a bilateral mastectomy. This was in September and we had the busiest eight weeks of our season ahead of us. Our staff stepped up and we realized we could step back and take care of our family and my health.
In terms of marketing, we operated for many years with just a website and advertising through the local Convention & Visitor's Bureau for Galena, a touristy town about 25 minutes from us. In the early stages, we did attend a few wedding shows but quickly learned that was not worth our time or money. About five years ago, I began advertising with The Knot/Wedding Wire (Wedding Pro) and have actually been quite pleased with the results, although I know many other venues are not satisfied. Our clients are mostly Chicago brides looking for something different, something outdoorsy, with a destination-wedding vibe that is within driving distance for their guests. We have seen steady growth over the last two decades. Our website, Wedding Pro accounts, social media (Instagram!) and word of mouth referrals are the core of our advertising and marketing. I sometimes run ads via Facebook and Instagram, but not often. We have grown from hosting less than 20 weddings a year to our record in 2021 of 90 weddings! Our goal is to stay around 70 weddings but we all know that 2021 is a different year due to COVID 19.
Speaking of COVID, 2020 was a disaster for Oak Hill as it was across the industry. We were able to reopen mid-summer and safely and successfully host about 30 weddings – about 40% of our events. Our outdoor ceremony locations and open- air pavilion are a huge advantage for our venue. We had sanitizing stations throughout the property, plexiglass at the bar locations and disinfected constantly. To keep tours alive, we hired a Google-affiliated company to shoot the property and create a Google Virtual Tour. The response has been amazing! We also did many Zoom and FaceTime tours all throughout 2020 and the booking rate was better than expected.
I have always handled my social media personally (not my forte) and recently outsourced it but quickly realized that the recent posts are not my voice nor my vision so I'm going to change course and bring it back in-house or find a different social media manager. I also recently hired a bookkeeper and it was the best decision I've ever made. I will say it again – it was the best decision I've ever made!! The other change I recently made was signing up with Honeybook, though I haven't quite mastered it. I have my own system, spreadsheets, reminders, etc. and converting 150 weddings in 2021 and 2022 is not an easy task. I'm hoping it all begins to "click" and becomes the time-saver I am looking for!
As for my website, I scoured the internet for sites that spoke to me and hired a designer out of Austin, Texas, whom I love. Doodle Dog Creative is the business name and Nikki Nuckols is the owner. She is amazing! I had ideas for the content and imagery and Nikki took that vision and ran with it. I have a lot of information on the site, but I did not include pricing information, which is contrary to the norm but it seems to work for my business.
We have hosted a few styled shoots at our venue and while it is helpful for my business, it is very helpful to the other vendor participants, especially those who are new to the industry and need photographs of their work. I am lucky to receive professional photos from most of my couples and their photographers but the styled shoots allow me to focus on areas of the venue that I want to promote and to feature new ideas and improvements. I have not organized these shoots, rather I am the host of them. We usually have a photographer (or more than one), stylists, baker and/or caterer, and florist.
We are lucky to work with some fantastic vendors in our rural area. Here are some of my favorites:
I believe that the unique attributes of our property and our dedication to service is what sets up apart. When I use the word "service", it means all of these things to me:
Timely and thorough communication (SO important)
Organization and assistance throughout the planning process (Excel is my best friend)
Personal connections to my clients (I truly try to get to know them and their story)
Friendly and helpful staff
Vendor relationships
When we schedule tours of the property, we start in our refurbished Barn, which is has a theme of vintage elegance (we are not a rustic venue). We tour the Bridal Suite and then sit and discuss the couple's vision and story all while reviewing a large photobook of the highlights of the venue. Then we head outdoors to walk the property. My tours last an hour, sometimes a bit more depending on the nature of the couple and if they have family with them. I don't send them off with anything except a watercolor map of the property. I follow up that same day (very important!) and attach our contract and explain the process of reserving a date. My tour-to-booking rate is 70%. During our wedding season, we book tours on wedding days in the morning hours while my crew is setting up and that allows brides to see a wedding in action, which they love!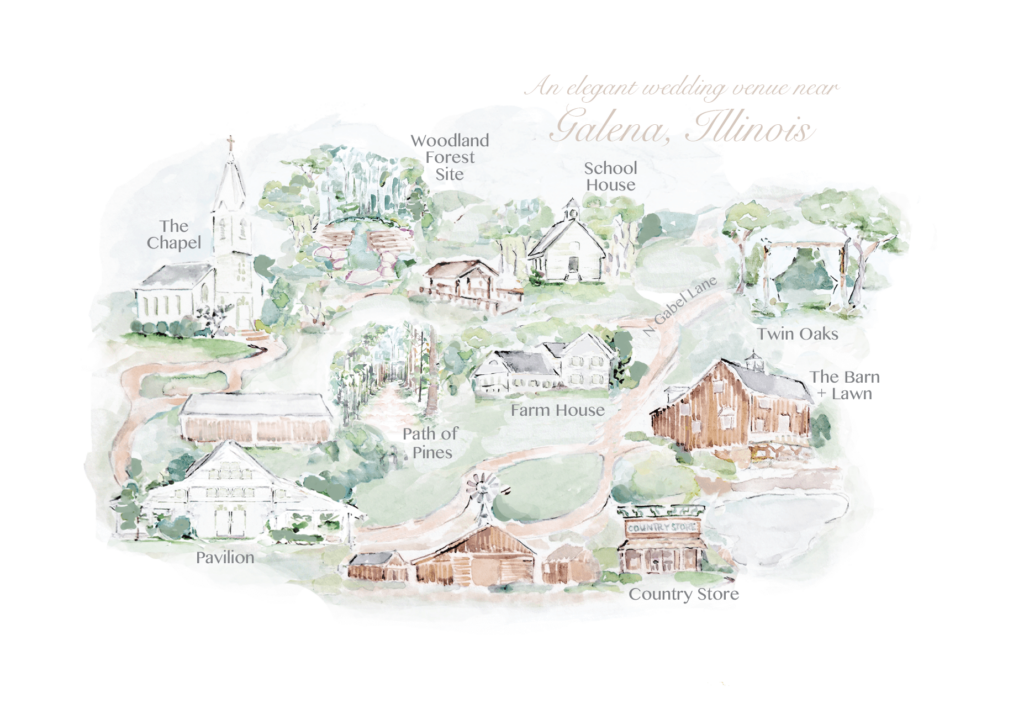 According to our couples, some of their favorite things about Oak Hill include:
Our vast array of "vintage chic" props to style your wedding (barrels, wagons, signs, chalkboards & more – at no charge!)
Unique spaces for their guests to enjoy
The ability to bring in your own alcohol (Oak Hill provides licensed bartenders)
Multiple outdoor ceremony locations and a chapel on site
Complete setup & teardown of your decor at no additional fee
A Wedding Day Coordinator is included in all our packages
Vendors of their choosing (Oak Hill has recommendations!)
Customizable reservation times
Complimentary golf cart service to assist guests
Separate bridal suite in an elegantly restored barn and groom's quarters in a new addition on the opposite side of the property
On the subject of contracts…make sure you have a good one! Remember that no reservation is complete without both a non-refundable retainer fee and a signed contract. Having a solid contract SAVED me during COVID. We review it annually with the assistance of our attorney. Our contract states our policies and legal requirements and while it is quite lengthy, it works! Some of the items that are restricted include confetti, "scatter" for the tables, wish lanterns, and "toss" items except for lavender buds.
We have been quite fortunate that very few things have been broken over the years and if any items go missing, we have found it is usually a vendor (mostly the caterers) who grab something that isn't theirs simply by accident. Theft and destruction are not a problem at Oak Hill (knock on wood!). The presence of children at the weddings is not extremely common as most guests are traveling 2+ hours to the venue and do not bring young children. We have had to ask parents to watch their children, and we have definitely had to admonish some kids when they hang on our pine trees or get close the pond without supervision. I do not encourage children, yet we don't discourage them either. Many young couples simply do not want kids at their wedding.
Alcohol…we are one of the few venues that permits couples to bring in their own alcohol. While this is not the norm, it works for us. We require a Host Liquor Liability Certificate and couples must use our licensed bartenders. We have a relationship with a local liquor store who delivers here every Wednesday and picks up unopened items every Monday. They build an overage into every order but accept returns – a win/win for all! Our clients work directly with the liquor store to place their order (with help from the manager of the store) and then I get an emailed list of everything they have ordered, which I then forward to our bartenders for that event. Couples LOVE the option to customize exactly what is served and when plus it is a huge cost savings to them, which allows me to charge more for the venue fee and add-ons.
A typical wedding day at Oak Hill begins at 7am and wraps up at about 11:30pm by the time the DJ has packed up and all the lights are turned off. We have about 20 part time employees that fill the roles of setup/cleanup, day of coordinating (managers), bartenders and property maintenance (landscaping, odd jobs, repairs). We usually have a team of 4 people for setup and cleanup, a day manager (mostly me) and an evening manager who arrives 30 minutes prior to the ceremony so that two of us are present during ceremony time. Our operating hours are 11am – 11pm but since our pricing only includes 9 hours of time (the extra hours are an additional fee), most couples do not arrive until 12pm or later. Having the morning open allows us to give tours and meet with booked brides prior to the wedding reservation starting. Hiring a full crew has changed my role tremendously and has been a huge improvement for our business, for my personal well-being and for our family. It has allowed me to "see the big picture" and focus on sales, ideas & improvements and client relationships rather than always being task oriented. I used to be absolutely exhausted, tired to the bone, after a wedding weekend. I'm so thankful to have a crew of dedicated and hardworking employees to help us run our operation.
Along with growth there are always challenges to be faced. Here are a few that stand out to me:
When we first started the business, I said yes to everything and everyone. Over the years, I've learned the fine art of saying "no" and I'm still surprised when people are accepting of that! I sometimes took customer service to almost a level of servitude, which, thankfully, I've reined in through the years.
Some of our other most challenging times involved owning a tent and dealing with weather. We nearly had to evacuate 150 people from the tent into the basement of our home during a particularly nasty storm. Watching the center poles of our tent sway due to the wind was literally the scariest experience of my life. Luckily, the storm passed quickly and nothing was damaged and nobody was injured.
We have horses on the property and one evening during the best man's speech, one of the horses had gotten loose and walked right into the tent and up to the best man. He just rolled with it and the guests thought it was all part of the plan!
One bride chose a caterer that was not on our vendor list, but he was licensed and insured so we allowed it. The day of the wedding, which was over 85 degrees, the caterer shows up 20 minutes before dinner service with a pickup truck filled with unrefrigerated pulled pork (!) and a variety of sides. He dropped the lift gate and three watermelons rolled out and exploded all over the floor in our prep area.
We had a DJ (not on our recommended vendor list) who disappeared at 10pm and left all his equipment. Apparently, he'd had a fight with his girlfriend and left in the middle of the event to deal with that.
So, what are my tips if starting a venue? Here are a few!
Cover all your bases – do the research – before starting. Obtaining a permit is no joke and can be quite expensive and time-consuming.
Live nearby the venue or onsite. There is no way I could own this business if a long commute were required.
Respect your neighbors.
Develop relationships with good vendors.
Customer service and organization are key
Pay attention to the details
Always stay on top of the trends
Communicate on time and often
Hire a good team
Love what you do!
I've enjoyed writing about my venue and our experience as owners. I wish all venue owners and managers a great season in 2021 and beyond.
Becky Riedl
Oak Hill Farm
VISIT: www.oakhillfarmgalena.com
INSTA: @oakhillfarmgalena
FB: www.facebook.com/oakhillfarm
RING: 815.541.2348