What's Special About Austin? EVERYTHING! The people, the food, the natural beauty, the history, the future, the culture and the booming wedding industry are all right here, in Austin, one of the best cities in the world!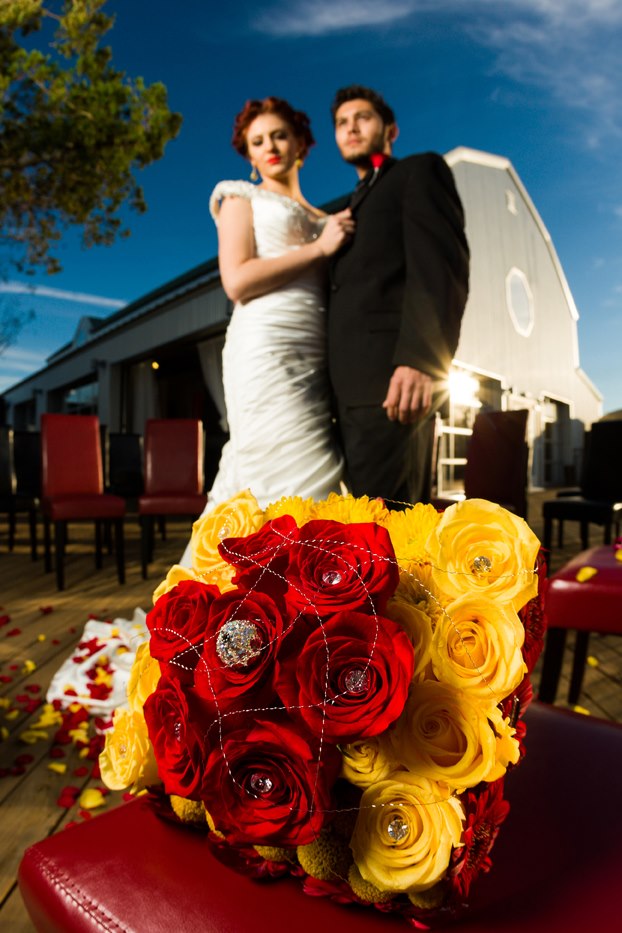 Wedding Venue Stories, TerrAdorna Austin Texas: "TerrAdorna is the most versatile special events venue in the Austin area. We rest on top of a secluded ridge, where you feel like you're a world away from the hustle and bustle of town but are conveniently located only 25 to 30 minutes from downtown Austin. Hotels are an easy drive or short shuttle trip from many local hotels." – TerrAdorna.com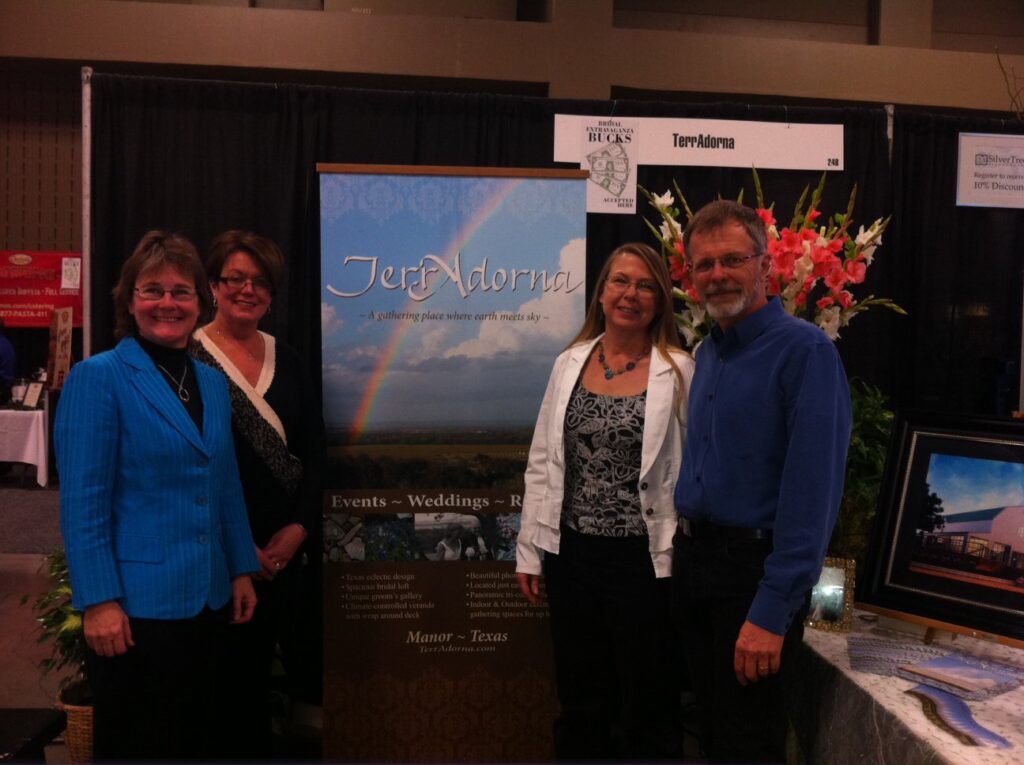 "TerrAdorna's style is Texas Eclectic Chic, a unique blending of Modern and Contemporary with a nod to Rustic, but without the rust — so fitting for any style from traditional to garden-inspired to country to industrial to boho to whimsical to romantic. TerrAdorna's spaces were designed with flexibility in mind, the kind of place that's right mix for just about every crowd. Our all-glass doors/walls open up completely to the wrap around porch and deck, offering the ability to truly bring the outdoors in. Soaring ceiling and open style architecture, use of natural materials, and built-in amenities are just some of the many details that set TerrAdorna apart from the rest." – TerrAdorna.com
Do You Love The Wedding Venue Owners Community? Please consider becoming a Featured Sponsor for only $10 a month!
GET: Special Badge for your site, increased exposure on the Wedding Venue Gallery & Wedding Venue Map & increased exposure on our Socials!
As the designers, builders, and owners of this magnificent space, we consider ourselves to be the curators, overseers and keepers. We have put love into all corners of our TerrAdorna, from the way the glass doors open up to let the outdoors in to the leaf imprints in the concrete sidewalks. We can't wait for you to see!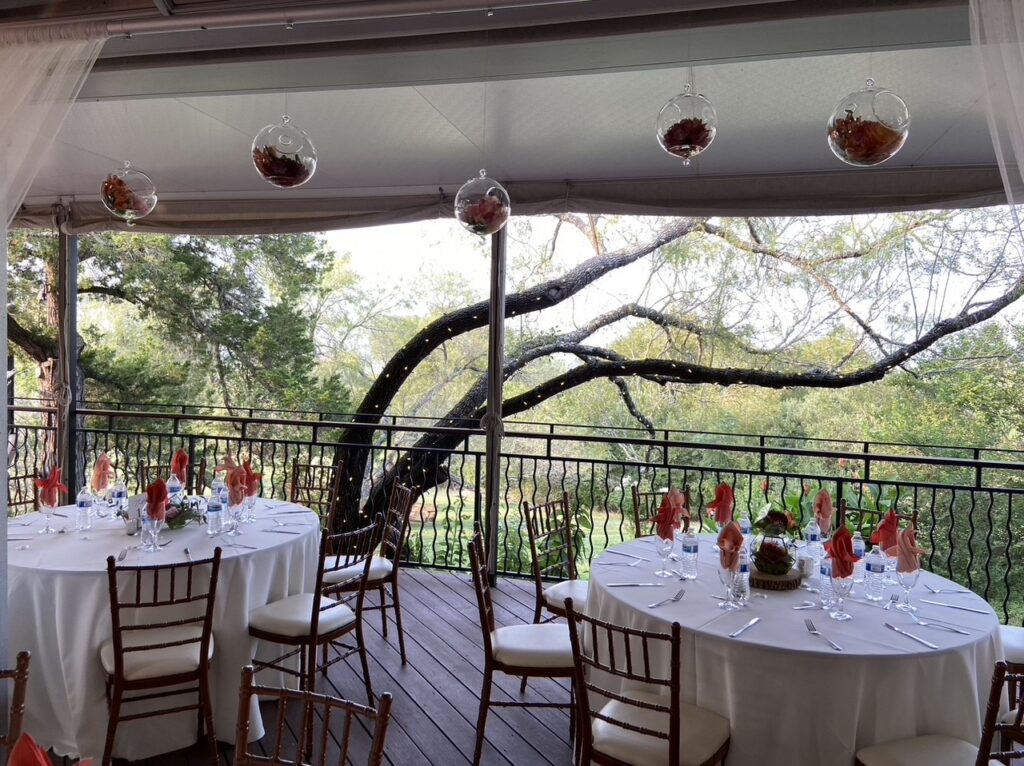 Why did you decide to start a wedding venue?
"I've planned events for a couple organizations I've belonged to and, as simplistic as it may sound, I came to understand the importance of a special place for a special occasion."

How long have you been operating a venue?
"We opened in 2012."

Please share the story behind your venue name or how you came up with the name.
"Well, Terra means Earth, and to Adorn is to make more beautiful. Aslo, Dorna is my given name, so it also means DoryLand. LOL. :-)"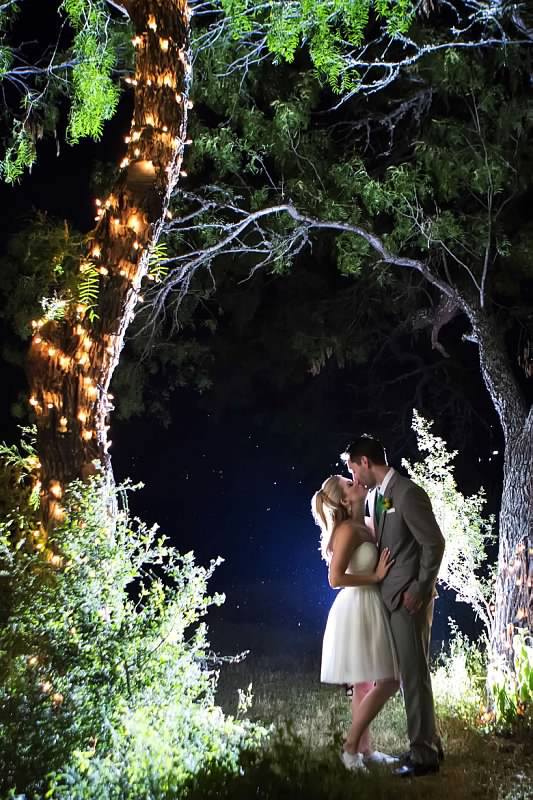 What do you like best about being a venue owner/mgr?
"I like working with people and helping them have a wonderful experience. I have a background in sales and service, and I've been an artist all my life, so I enjoyed designing the venue. I also offer florals to our couples, and enjoy the commission aspect of creating something special for each couple."

Please share your experience about how much effort & cost goes into running a venue. Things that couples and start up venues may not be aware of. (heating, cooling, adv, landscaping, staff, insurance, etc…).
"Not quite where to start; expenses will be more or less difficult to project depending on whether one is taking over an existing venue or starting from scratch, like we did. There's also a fair amount of incidental costs that are difficult to quantify. In our case, we had checked with the county regarding building code, and there was none at the time. However, between the time we checked and the time we broke ground, the county adopted international building and fire code, so that was a huge surprise. We had to cut bait or fish, so we decided to move ahead.
We also did not create everything at once. We would add some major improvement every year or so, as we brought in profit. We added the awning and drop walls to our porch on year 2, then a flagstone patio on year 3 or 4. This year we're adding a set of terraced steps just beyond the arch, to create a visual surprise and an additional photo op looking back at the venue."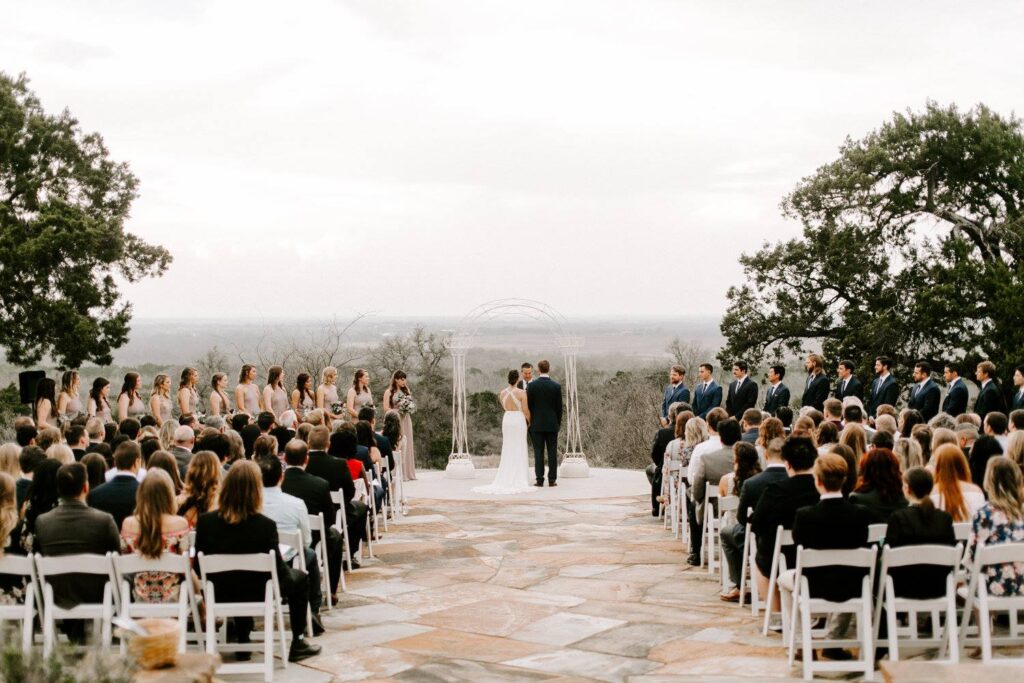 Do you have any tips on cutting costs on daily operations or any smart solutions you have for saving money (website, venue expenses, staff, adv, etc..)?
"Research everything. Find a mentor if you can. Before making a purchase, ask yourself if it is necessary or a preference. Especially in larger expenditures, ask yourself if will it will help bring bookings."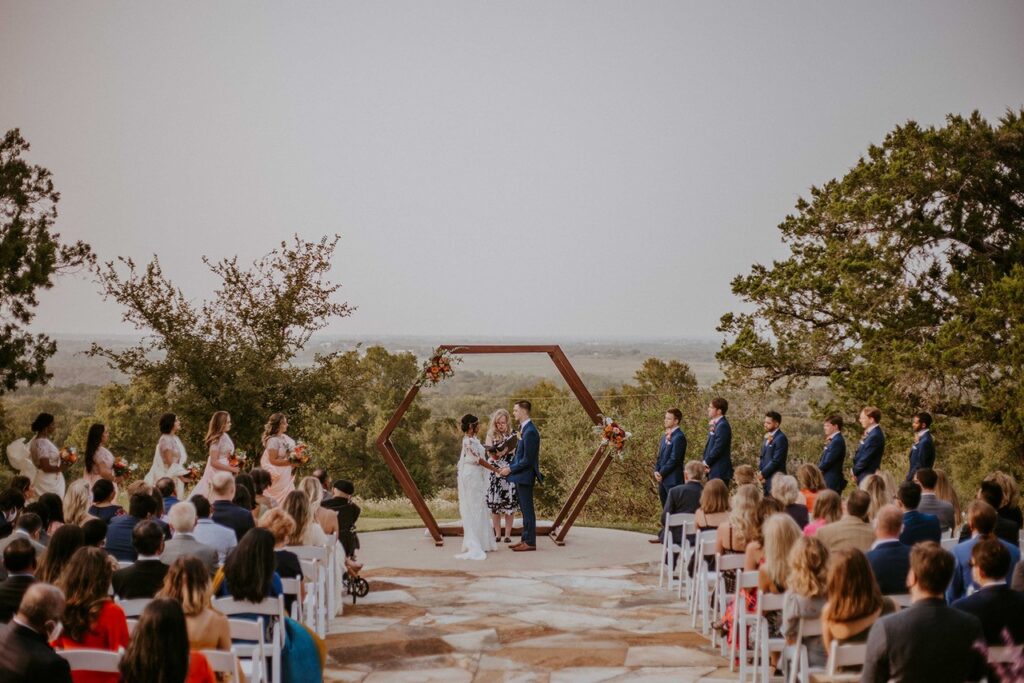 Do you have any time saving tips that are worth the investment, like paying for landscaping crews or investing in someone to manage day of events or cleaning crew to flip the venue.
"So much depends on the venue owner. If you're young and have the energy, are you interested in gardening? Do you mind setting up tables and chairs and putting them away again? How much are you willing to do, have the time and/or energy to do? What will your budget allow? For us, we did everything ourselves the first year, except hiring a cleaning crew to come in for cleanup after events. But we mopped floors, set up tables, broke down, and did basic cleanup to be ready for any tours coming the next day. The first year we did not have or require a planner. That first year showed a world of difference between events that had a planner and those that did not, it was like night and day."

Social Media Marketing taking up too much of your time?
$299 per month for basic social media marketing packages available through WeddingVenueOwners.com. Contact didi@weddingvenueowners.com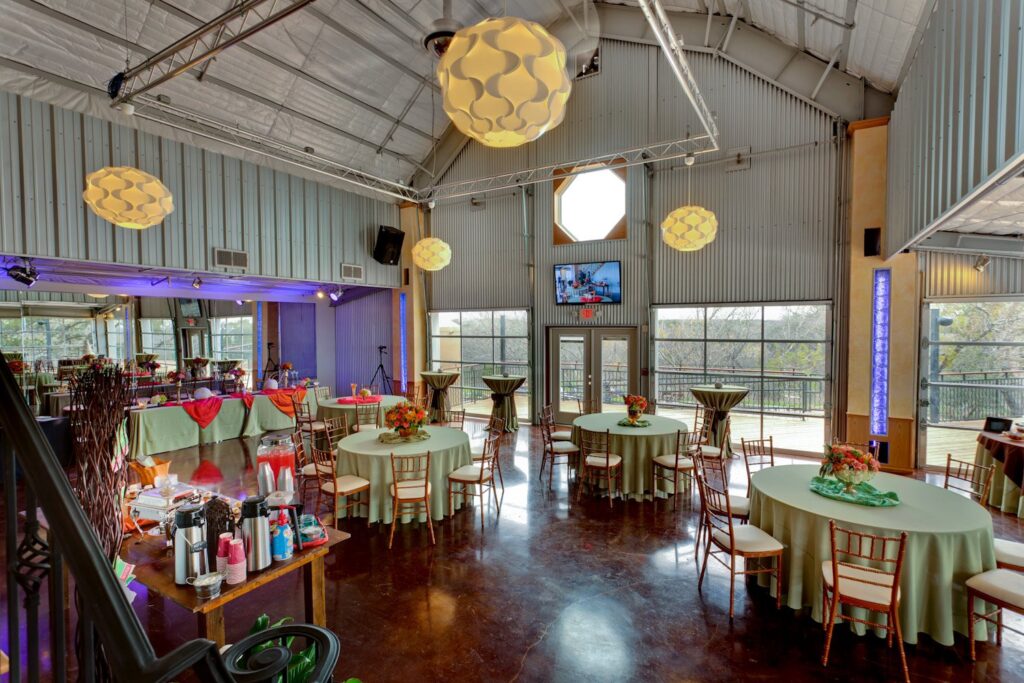 Does your venue have special regulations or hours for your event rental parties? Any policies that you have to enforce that another wedding venue may not? If so, how do help your couples work around these special requirements?9. How many weddings do you host each year?
"Standard rentals are Noon to Midnight, with music off at 11:00 and doors closed at midnight. MiniWeddings are 4 hours blocks either morning or late afternoon. I think other venues probably have more regulations than we do, but we're very clear about what those regulations are. Normally we host 2 to 3 dozen events each year. One year we hosted 44 and it wore us out! LOL. Of course, 2020 had its own ideas. We started the year with 26 or more events on the calendar, but will have hosted only 6 events. We were fortunate to be able to reschedule almost all our couples to new dates or convert their full day rental to a MiniWedding at no additional cost."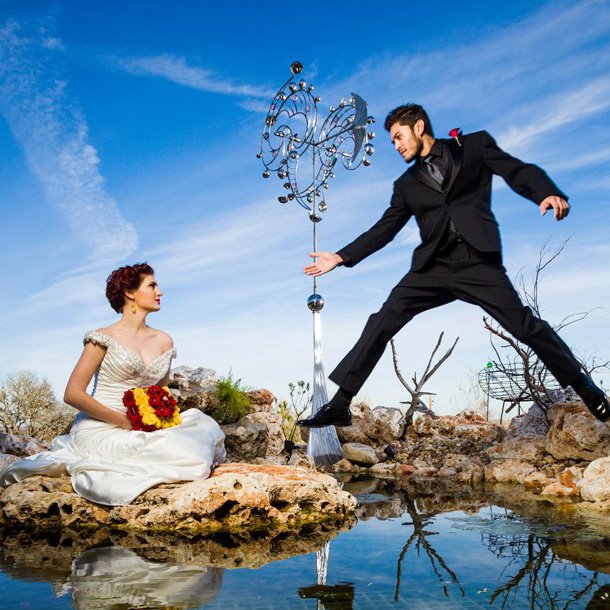 What is your main source of lead generation?
"That's a difficult question to answer. We market with The Knot and Texas Wedding Guide, but also get a fair amount of leads simply from folk Googling "venues near me." I keep meaning to get FaceBook ads up and running, but I wear a lot of hats and some days I just want a bare head. :-)"

What sets your venue apart from other options? What is unique and distinct about your venue?
"Several things, really. Our location feels remote and quiet, while being only 25 minutes from downtown Austin. We're on 30 acres that we maintain under a Wildlife Program through the Agriculture department. We have a 180 degree Hill Country view from our ridge that rivals most, much closer to town. The venue itself is an eclectic design of a barn shape, in a nod to the architectural vernacular of the region, with a clean, industrial look inside. Rustic but not rusty! Texas Eclectic Chic. Great photo ops. One big plus is that two walls have glass doors that open up completely to a covered, fully enclosable wrap around porch. The East wall opens up completely to the outside! There's also a lovely koi pond near the entrance."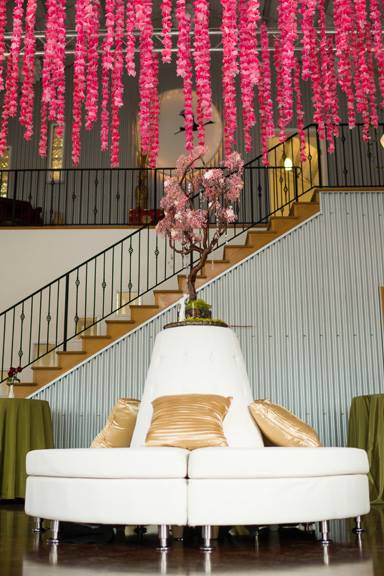 Do you host wedding shows, open houses? If so can you share some tips on how you make this event successful (how many vendors you allow, where do you adv, how many couples come through, how many book) Are these effective marketing events for your venue?
"Open houses usually don't bring in a lot of traffic. We plan the occasional open house primarily for the photos. As more venues open in our area, we hope to coordinate 'movable feast' type open houses with them."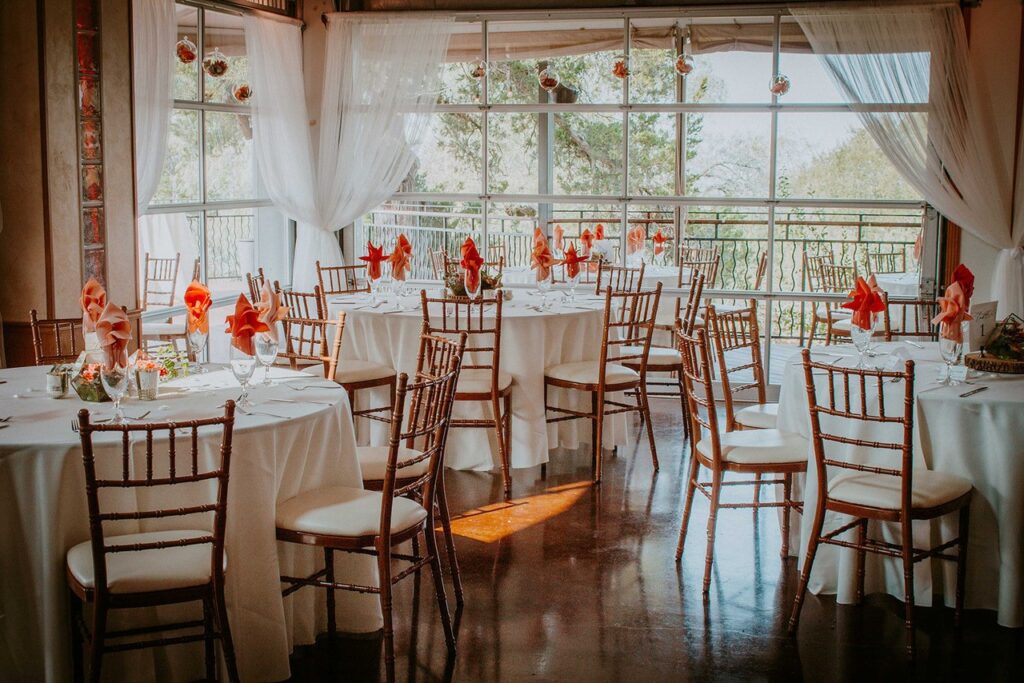 Tips on providing great venue tours for potential clients? What materials do you provide on tours?
"We try to provide potential clients as much information as we can during a tour, as well as ask them questions along the way. At the end of the guided tour, we invite folk back to the main venue so we can visit for a minute and share our info packet that they take home with them. At that time we ask them what questions they have for us. Most tell us we've already covered all the questions they had. Many couples are very appreciative of the info packet. It consists of a designed, two pocket folder with a pic of our Bride in the Swing on the front and some other images on back, in our signature marketing color of a Tiffany blue with warm red accents. In it we put a copy of our Contract, Rules, Preferred Vendors list, Day-of Coordinator info, Sample of Optional Services (my husband officiated, I offer florals, overhead decor installations), Audio/Visual Spec sheet, Accommodations, Directions and Map (each of which are also downloadable from our website) and any vendor collateral we have on hand to share. (I'll attach a copy below.)"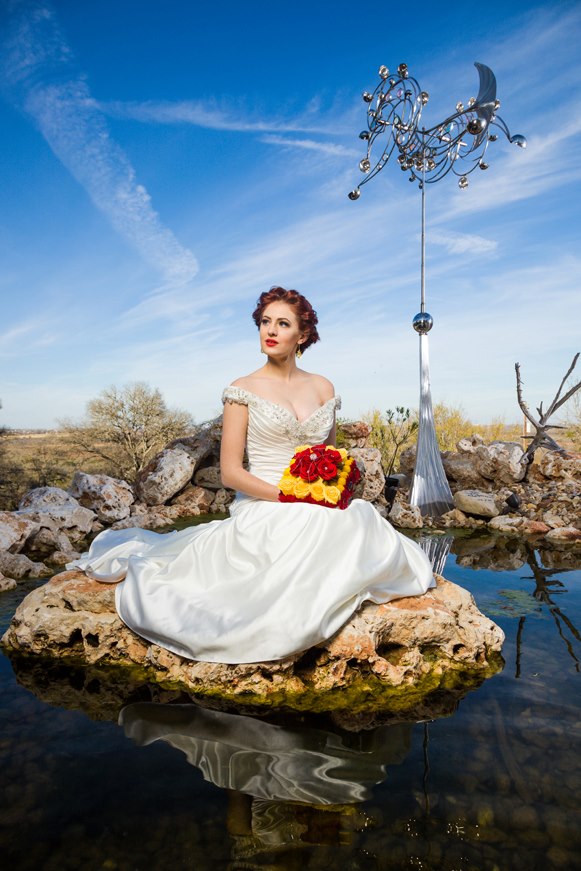 What do you think your couples love most about your venue? Any venue assets/features that help you book clients?
"I think most love the grounds and the views. We offer good vendor flexibility; the only vendor we require clients use is the bartending service on our preferred vendors list, but they can still purchase and provide their own alcohol. Couples get a full 12 hours of rental, noon to midnight, with music down at 11:00 and doors closed at 12:00. We include a lot in our rentals: tables and chairs for up to 150, tablecloths in client's choice of black, white, or ivory, up to 150 folding white garden chairs for ceremony on the flagstone patio, set up, break down, and cleanup. Rental also includes the services of a day-of coordinator, which if pretty huge. We try to make it easy for our couples."

Every Venue Is Unique, Every Venue Has A Story To Tell!
I would love to feature your wedding venue story here next. Please contact didi@weddingvenueowners.com for information.
Do you do your own advertising & marketing? If so please share any tips on best practices that help you get your business in front of more potential clients, get more leads, etc…
"As an artist, I design all our marketing collateral and ad designs for online and print. That has saved us a great deal there. I try to make time occasionally to post new images to our Pinterest page, and to post occasionally on our FaceBook page, though I admit I don't do either as often as I'd like. Couples love seeing pics of weddings!"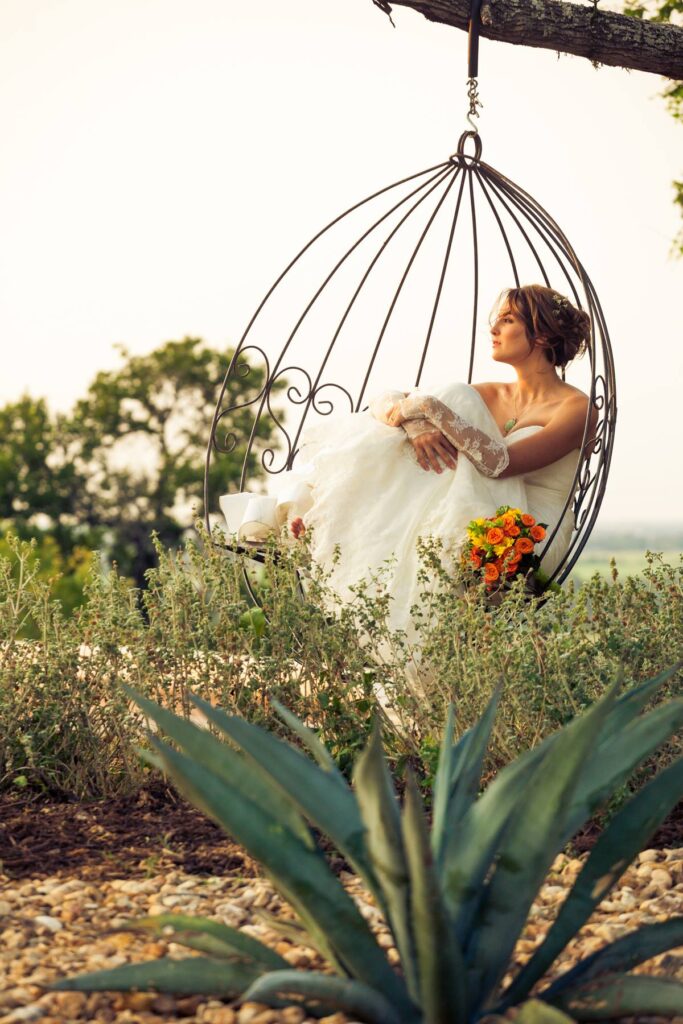 Please share any costly errors or regrets you may have learned from.
"The biggest extra cost wasn't exactly an error, but it sure made a difference. Before we started building, we checked with our county to determine any code that may need to be followed. At that time, the only code was to obtain a septic permit. Between the time we inquired and the time we poured our foundation, our county had adopted international building and fire code. While the new code didn't substantially change our building plans (had to add a couple toilets and a water cooler), it did set us back about 6 months and increased our costs substantially due to additional engineering for the grounds; parking, retaining walls, water run off, fire suppression, etc. So I would advise anyone building from scratch to check on code requirements not just once, but a couple times and right before pouring the foundation. Other than that, I did get excited and buy some decor that we ended up either not using or using only once or twice."

Do you have any tips on contract development, any wording or clauses that help you the most?
"We worked with an attorney to develop our contract and rules. Every once in a while we will have a client who inspires edits and/or clarifications. LOL."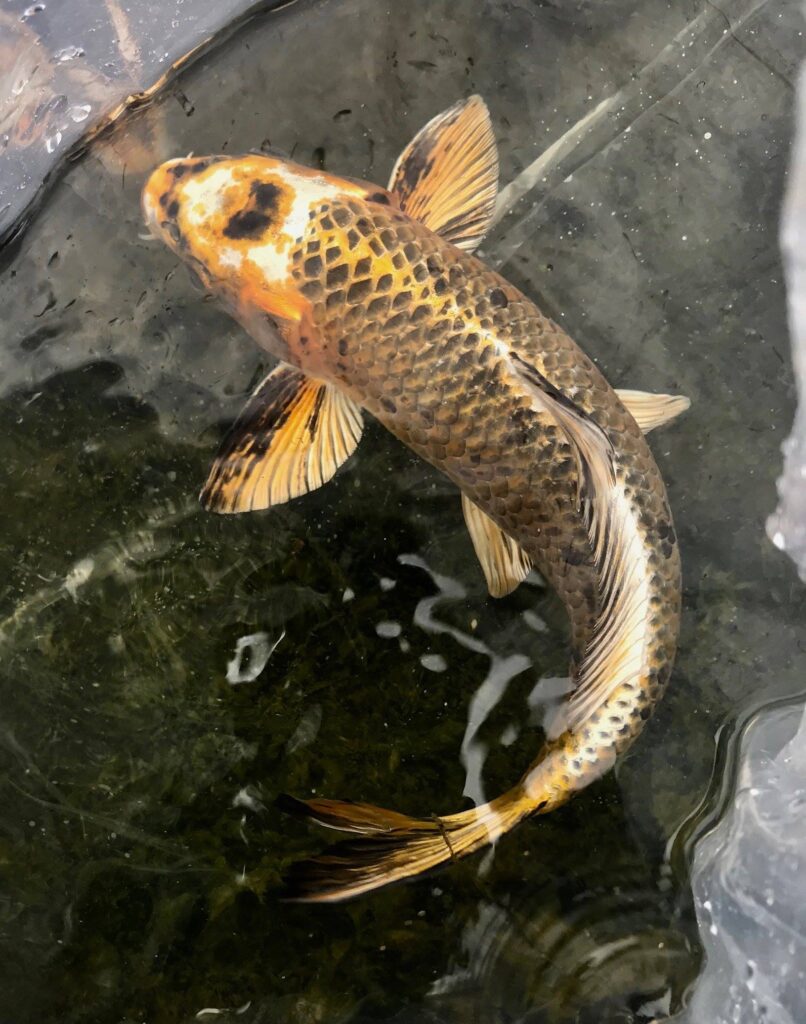 Do you have a great website? Tips on website design or features that help you attract, book clients?
"I think we have a great website. To begin with, I created our first website; not very sophisticated, but with tons of pics. I actually got a number of compliments on my DIY website from our couples! But after the first year I found a web person I trusted and liked to build the site we now have, who also updates and monitors it for various web requirements and will add photos or make edits for me."

Building client relationships – how do you build up your client relationships? Any customer service tips or practices you can share?
"Friendly and not too formal correspondence. Asking them about themselves and how they met. Encouraging them to tell their stories. Talking about ourselves some. Finding common interests to speak to. Finding language to say "no" without using the word "no." Finding things to say "yes" to."

Engaged? Congratulations! Please use our wedding venue map search to find wedding venues in your area.
Click here to search the map for venues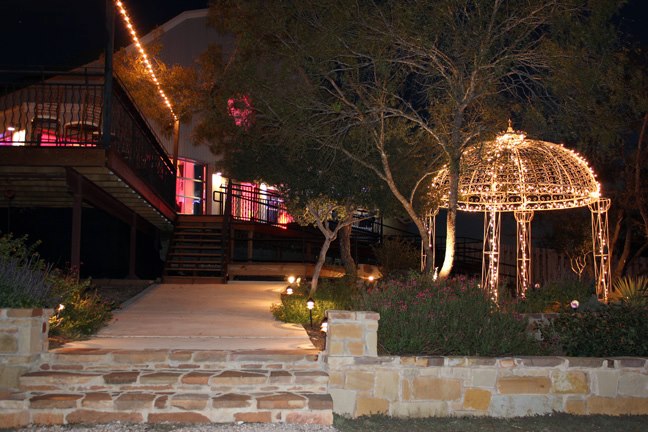 Any hard challenges you would like to share with venue owners and how you overcame that challenge? (permits, legal issues, neighbors, vendors, bridezilla/momzilla, bad reviews)?
"We're fortunate that in 9 years we've really only had one "bridezilla" who became a bit demanding and unreasonable day of and one "dadzilla" who was really only stressed but not too difficult. We've been fortunate that the vast majority of our couples have been fun and pleasant to deal with. We tend to attract people somewhat like ourselves—friendly, professional, geeks, nerds, interesting hobbies, dog people. The worse review we've gotten was a 3.5 from a bride who had been very anxious. While she started her review with, "I wish I could leave a glowing review," she did then essentially leave a glowing review, but added, "when you pay this much to be somewhere for a day, I expect the owners to better ameliorate my anxieties." I couldn't help but feel badly for her, but I had had no idea how stressed she was. I answered her review nicely, said what a beautiful wedding and day it had been, and that I hoped her photos would help shape her memories of the day in a positive way. Other than that, we've been fortunate. We're in the country with only a couple neighbors; sound carries out and away so no sound issues; no legal issues; only a couple less than wonderful vendors. We've vetted our preferred vendors list pretty well, and most couples choose off the list. Most outside vendors are just fine, with only a few hiccups."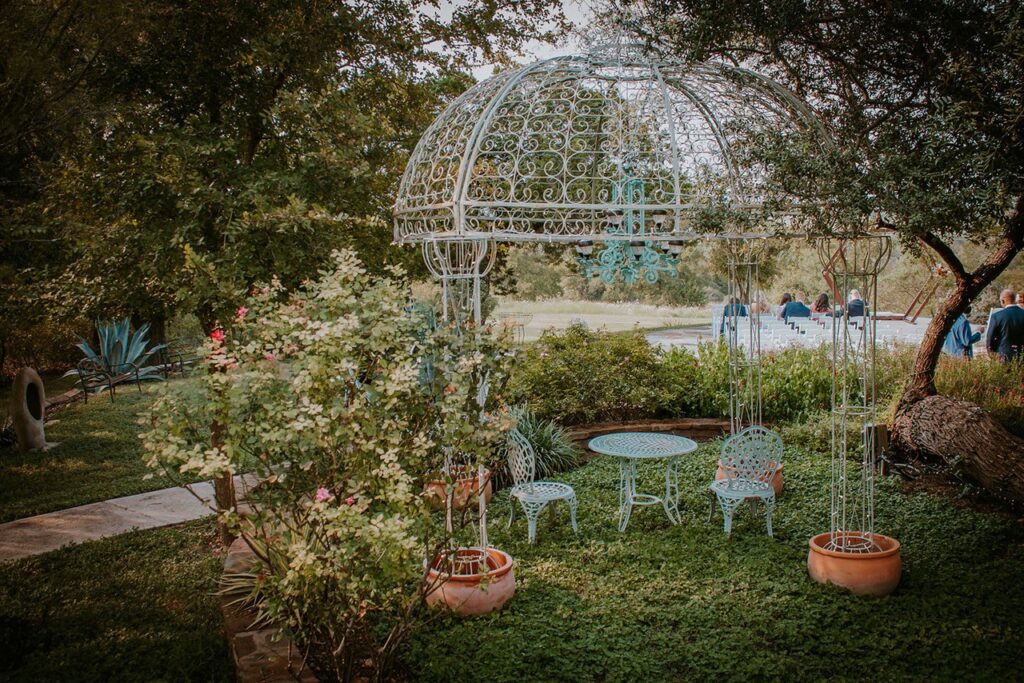 Do you have any stories of chaos you can share, something unexpected that happened during a wedding or event and the solution you came up with or how things were resolved
"We had a couple rent a tent, in case of rain. The rental company didn't include all the necessary parts to erect the tent and had to send a separate delivery from 90 miles away. Then it became apparent they had brought the wrong tent. Rather than the low profile tent the couple had rented, they brought one with a tall roof, which blocked the view from the deck. That was frustrating. One couple had hired a caterer for chicken and waffles. Rather than gas fryers, they brought electric fryers, which ended up scattered all over the venue to prevent popping breakers. One winter night, the sewer backed up, and my husband had to open a cleanout, which was about 15 feet below the venue, resulting in a fountain of unmentionable. Fortunately, it was dark, and it was cold, so only one person was on the deck and didn't seem to notice. He left the cleanout open, spread a brown tarp over it all and got it fixed the next day. No one ever knew, but we sure did! LOL!"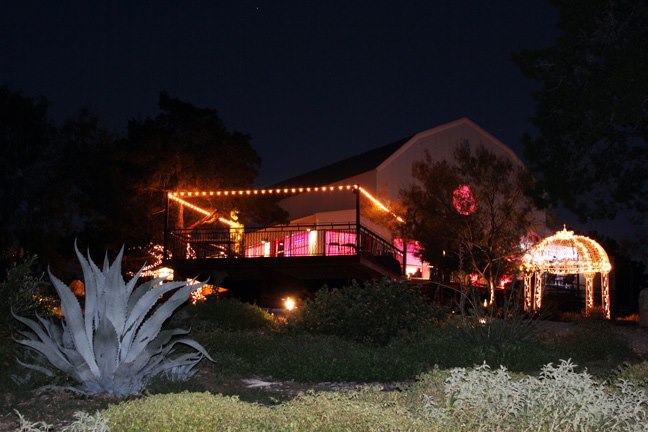 Do you have any tips you would like to share with other venue owners?
"Go into this business only if you truly like people and working with them. I have a background in sales and service and did commission work as an artist for many years. I like the challenge of making something—a piece of calligraphy, a design, a bouquet, a decor set, an experience—just so, based on what the client has shared with me. I gain a great deal of satisfaction from getting it right. There are those who can make good profit without that mindset, but only if they put the right staff, with the right mind set, in front of clients."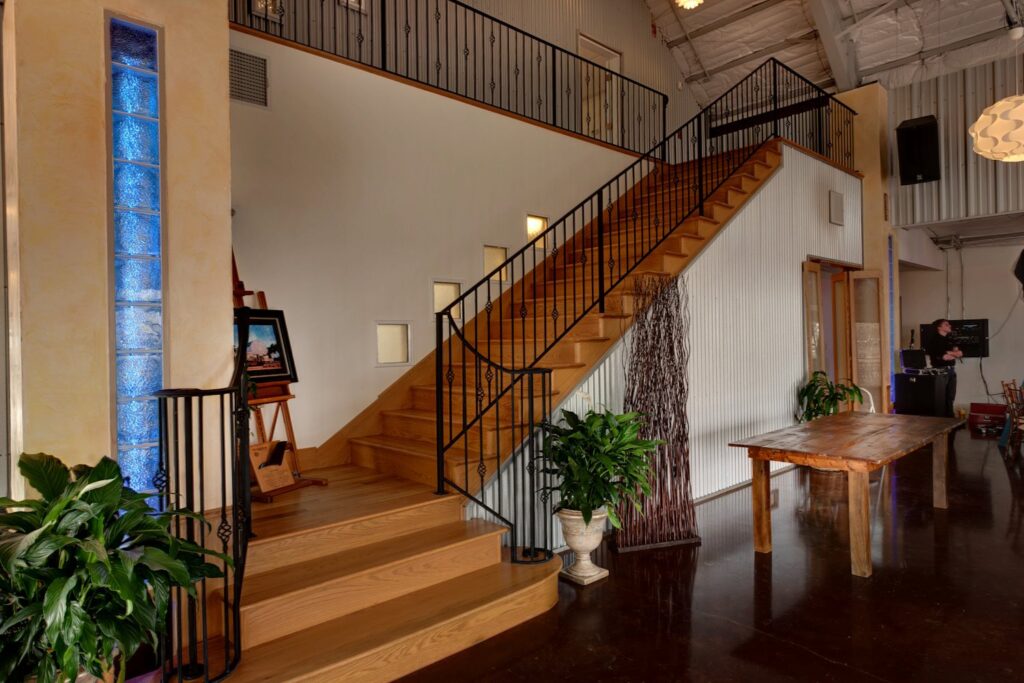 Do you have any thoughts or solutions to share regarding Covid19? Or maybe just share how Covid is impacting your business.
"Apart from our calendar going mostly blank for the year, I took this opportunity to better define our MiniWedding offerings, decrease our regular maximum guest count from 200 to 150, and I raised rates on weekend days a $1,000. Lots of folk told us what a great deal we offered; I decided I wanted to be a good deal rather than a great deal. With all we provide, we're still very highly competitive with similar venues. Also, as we near 10 years in business and I move through my 60's and my husband gets closer to 70, we'd like to rest and engage with our hobbies and grandkids and work less. I want to start focusing more on my artwork. We're planning to build an art studio and workshop next to our home, and I'd like to spend more time thinking about and doing art. I'm on the Manor Arts Council board and want to be able to offer more classes to the community. My studio will be a clay studio, which my BFA concentration was in. I already have ideas for lines to develop to offer to couples to commemorate their special day."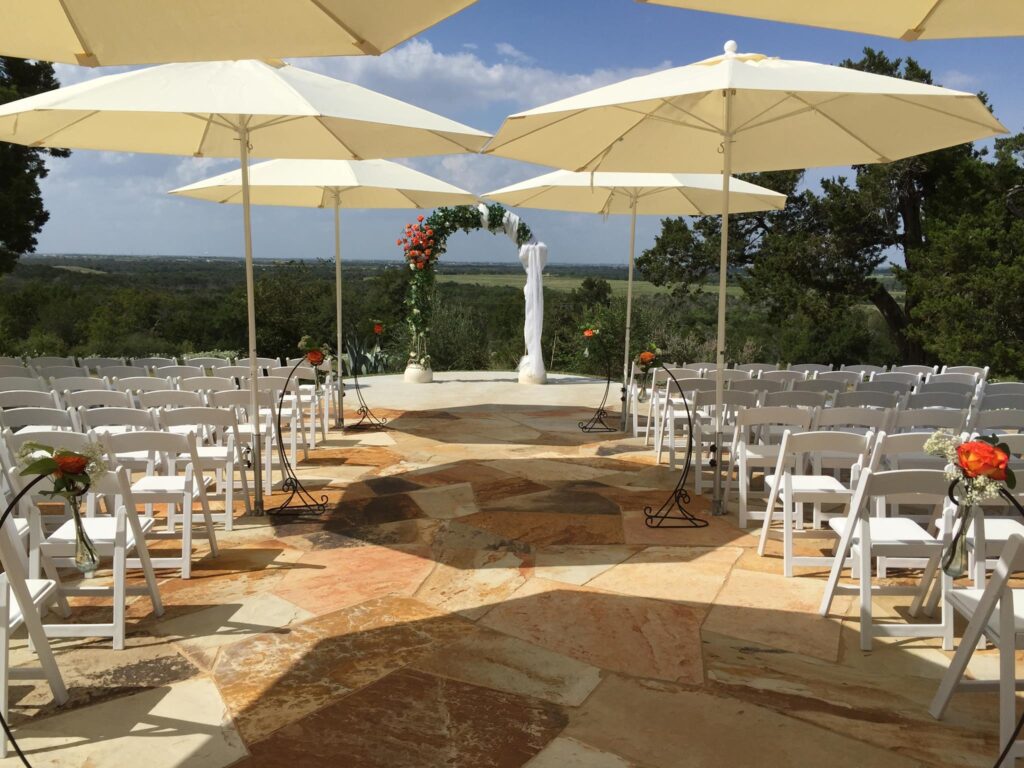 Any advice to anyone thinking of starting a venue?
"Visit as many venues in your area as you can. Join a local events professionals organization, like ILEA (International Live Events Association). Attend the Wedding MBA. Try to find a mentor who owns a venue, if not in your area then somewhere that is similar to your area. Put together a business plan, and have an exit strategy.
Also, consider what add-ons you might offer to enhance your cash flow. We created a LookBook of optional rentals for such things as cocktail tables, seating vignettes, a couple different arch options, overhead decor installations (using the lighting truss and fishing line net above), vintage china, etc."

What are your couples top ten Fav parts/characteristics of your venue?
"Almost every one of our mostly 5 star reviews mention my husband and I by name, and how easy we are to work with. They love the attention to detail, both in our approach and in the building and gardens (we have stained concrete floors, and here and there will be a dragonfly, a leaf, fish, or acorn design somewhere tucked in around a corner). They love the view and all the beautiful photo ops. They love the HUGE ready room suite upstairs filled with natural light and mirrors. They enjoy the separate cabin ready room and the additional photo ops in that area. Dog lovers love that they can include their furry family in their celebration. They love how the walls can open up, truly bringing the outdoors in. They like the comfort that our huge Big Ass Fan provides in how it mixes the air and enhances environmental comfort. They like the built in, plug-and-play Audio/Visual system that makes things easy for their DJ or allows them to just plug in their own iphone or other device, with speakers hung overhead to spare their guests ears, indoor/outdoor speakers on two different volume channels so it can be rocking out inside, and conversational level outside, or vice versa, and easy sound for processional and recessional. They love the natural beauty of the locale and how easy it is to enjoy it from a variety of places, from the porch to the deck to the flagstone patio to the the gardens."


What are the top spots for shots around the venue?
"Upstairs in the loft suite, the big picture frame window in the fence with the antique cars in the background, the little rock island in the koi pond, the big lower field with the wide view as a background, the gazebo in the gardens, the lazy mesquite, the twinkle light wrapped trees, in front of the koi pond, the peanut swing in the entry garden. There are too many to think of off hand."

Most popular foods served or requested at your weddings?
"Being Texas, BBQ is popular, as are food trucks and other more traditional fare. "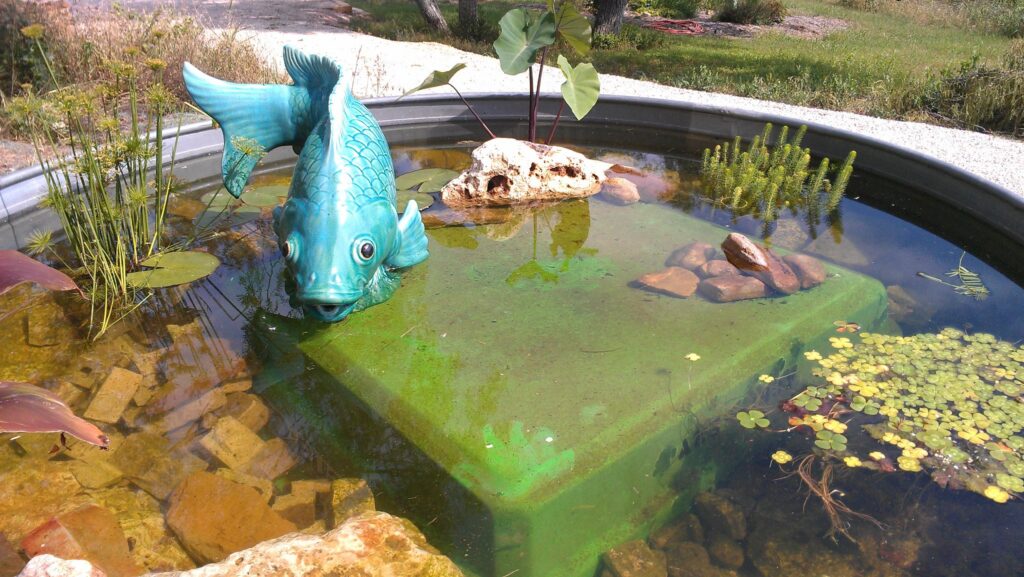 What is the biggest challenge you have in managing weddings?
"Making time to sit down at my desk to work on uploading photos to Pinterest, making time to work on layout for collateral material for our relatively new MiniWeddings. Keeping up with inquiries and other correspondences."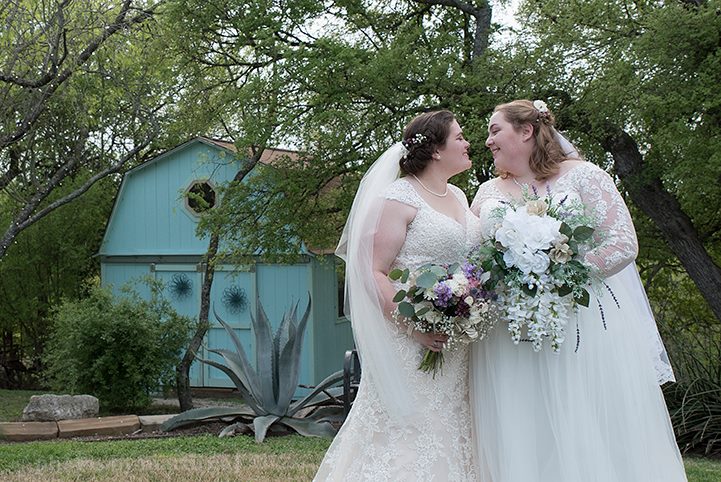 What are the couples who come to your venue looking for in their wedding? What seems to be the priorities that come up most often?
"Most want a fun, stress free celebration to share with their family and friends with. It's usually just that simple. And important."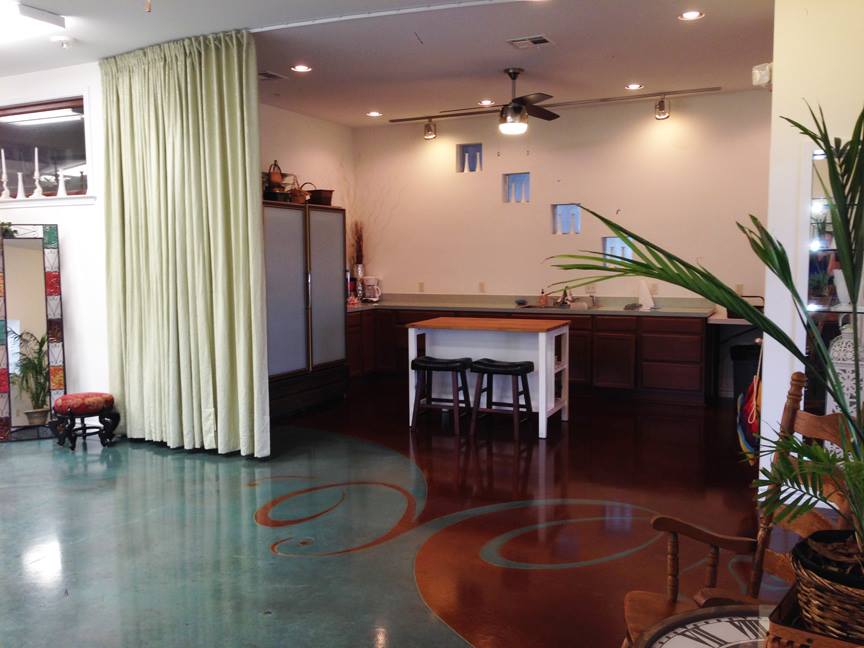 Can you share 10 to 15 great vendors you have enjoyed working with.
"I don't know what I'd do without Crystal from Crystal Occasions. She's been our in-house coordinator for the past 8 years. The first year we didn't offer or require a coordinator. That first year showed us that the differences between coordinated and DIY weddings were like night and day. She came highly recommended by my favorite photographer, Josh Baker of AzulOx Visuals, when a different planner flaked on an open house at the last minute, and we worked her into our offerings. Drink Slingers is currently the only bartending service we list as an option on our vendors list; they're professional, set a pretty bar, and I don't have to worry about overserving. Our favorite DJ is G-Fire productions. Gerald has a wonderful voice, superb transition skills, can *bring* a party without being over the top or drowning in ego, and our couples enjoy working with him. Catering by Mopsie has never served a meal I considered just ok; plus their family has been doing BBQ for over 75 years and it shows. Dan from Heart of Texas BBQ do awesome picnic-style BBQ and wife Dana makes a banana pudding that is like a cross between traditional banana pudding and some luscious french creme confection. Royal Fig specializes in local farm to plate cuisine and Catering With a Twist does wonderful coordinated cuisine. Michelle's Patisserie does both delicious and artistic cakes. We once went to check on set up, and wondered why there was a turntable on the cake table. It wasn't until we were literally inches away before we realized it *was* the cake! Jessi Pagel is a highly talented hair and makeup artist who has worked on numerous TV and movie projects in addition to event work. Peached Tortilla, which is one of my favorite brick and mortar restaurants specializing in Asian/Mexican cuisine, also have a food truck, which is marvelous. Gourdoughs, who make the best donuts I've ever had, have a lovely trailer for onsite sweetness. Pearl Snap Cuisine does a beautiful fruit and cheese table of all kinds of exotic fruits and wonderful cheeses that is a feast for the eyes as well as the palette. Dustin Finkelstein does beautiful photography, some of which remind my of Max Parrish's paintings in light and feel. Daniel Ka Video does some great zooming drone videography, and Full Spectrum Ice makes fleeting but beautiful sculptures. Tiny Tails to You and Fannie's Farm Friends bring furry, fluffy, and feathered fun to any event. Angelic Strings provide the ethereal sound of a harp to processional or after, and Musical Discovery provide live chamber and classical music for a wonderful musical touch to any event. There are so many wonderful, talented vendors in the Austin, Texas area. These are just a few."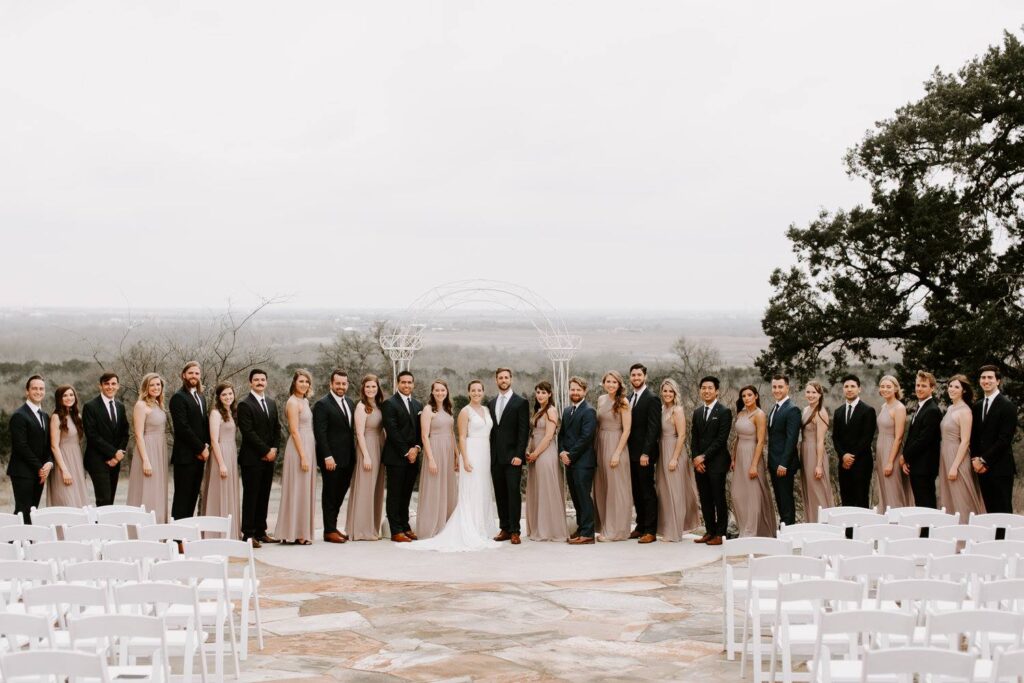 Can you share some details about the most unique event you have ever hosted?
"A 1920's theme and dress wedding."

Most unique wedding – wedding themes?
"Wizard of Oz theme, Alice in Wonderland theme."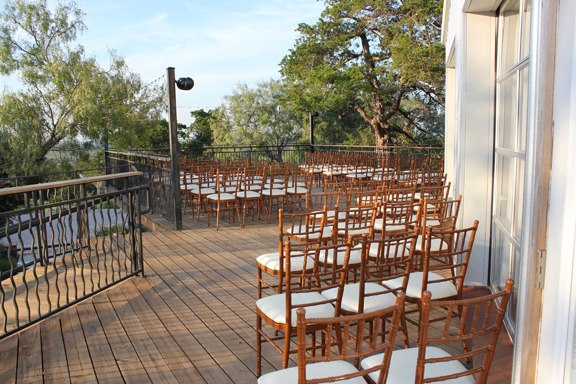 How do vendors load in to your venue?
"They pull up just past the front door, or park in a nearby parking space."

BEFORE AND AFTER GALLERY – I love it when we get to see all the hard work the owner put into a venue!
How is parking handled?
"For groups of 125 to 150, my husband and I will help direct parking so all the parking spots get properly used. 100 or fewer we just let folk park themselves. Guests have the option to drive up to the venue and drop people off at the front door before parking."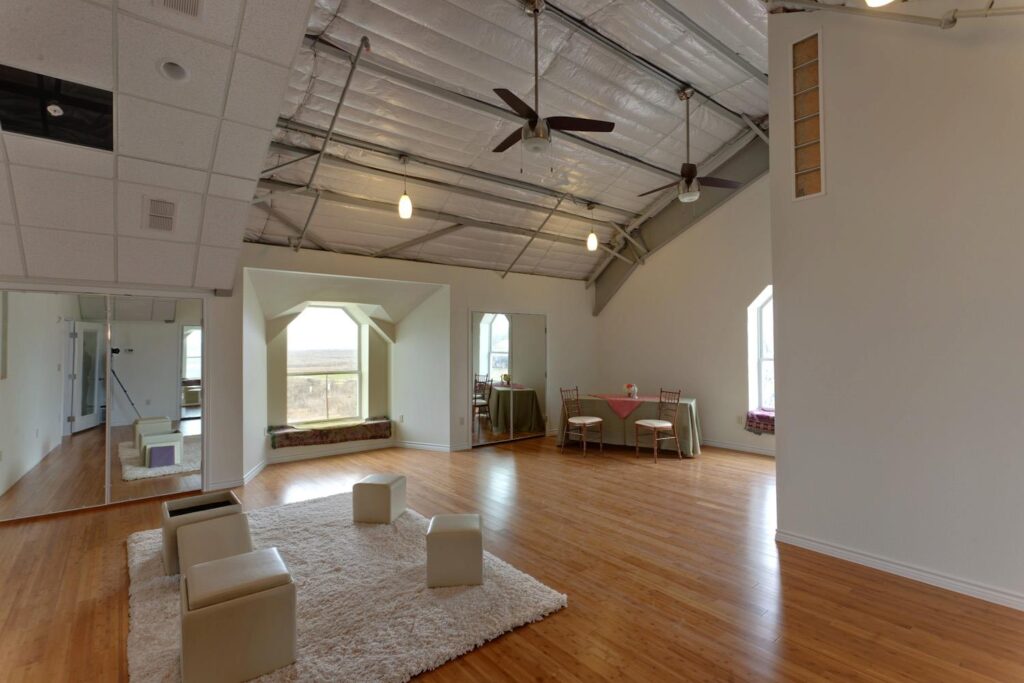 What is the most popular type of music played at weddings at your venue?
"Pop, Country, Motown."

What are the couples requesting for signature drinks?
"Most couples opt for beer and wine, with the occasional signature drink. Some have a margarita machine."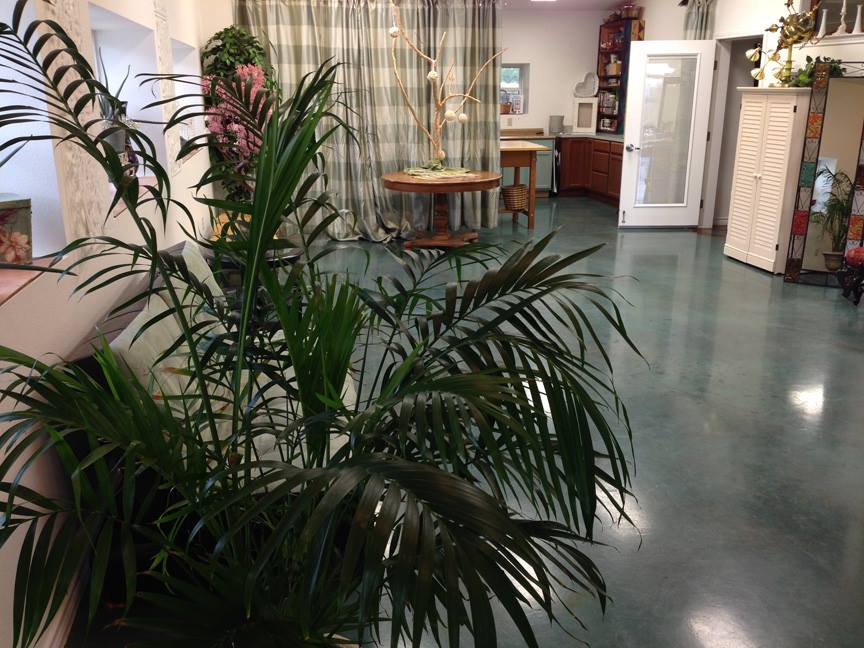 Wedding Crashers – ever have one (critters included)?
"We used to have a yellow belly water snake that would hang around during frog season. My husband was lowering one of our clear vinyl drop walls once and a rat snake dropped out. He was able to scoot it off the porch before anyone noticed. We occasionally get the large, garden orb weaver spiders and one decided to set up her web on the vendors door. No one was allowed to touch her."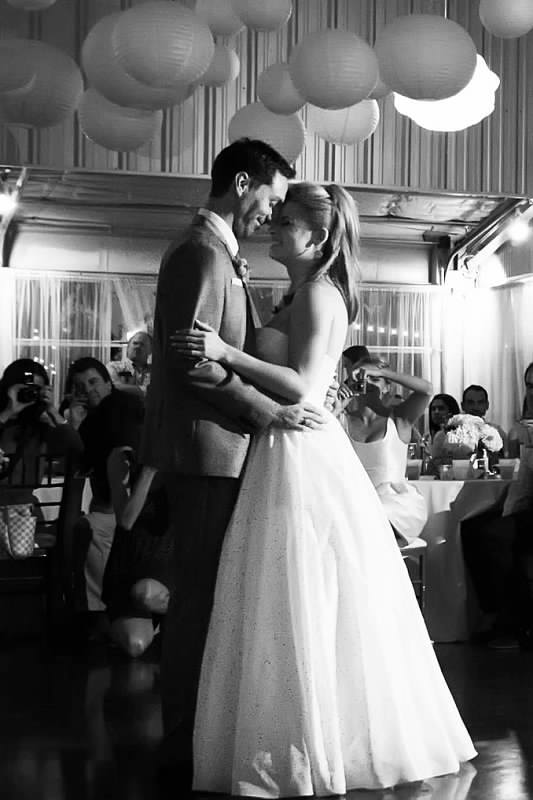 Broken Items, what are some of this damage issues you have most often and have you ever had something really unusual break at or before a wedding?
"The most common issue is people dragging things across the floors. The weirdest thing was when a makeup artist decided to take my antique drop top table from our stair landing and use it to put her curling irons on. UGH! We made them pay for it. I have yet to refinish it."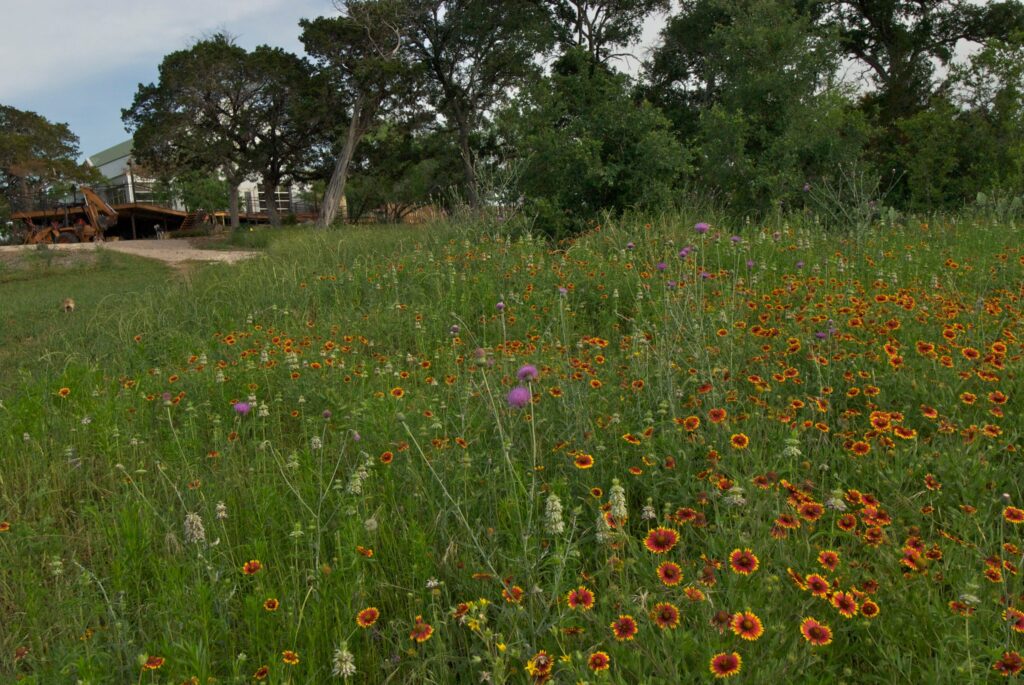 Most popular requests from couples, family, guests?
"Early arrivals. We're fine with those, though. We just tell folk we reserve the right to do set up, maintenance, or give a tour until noon."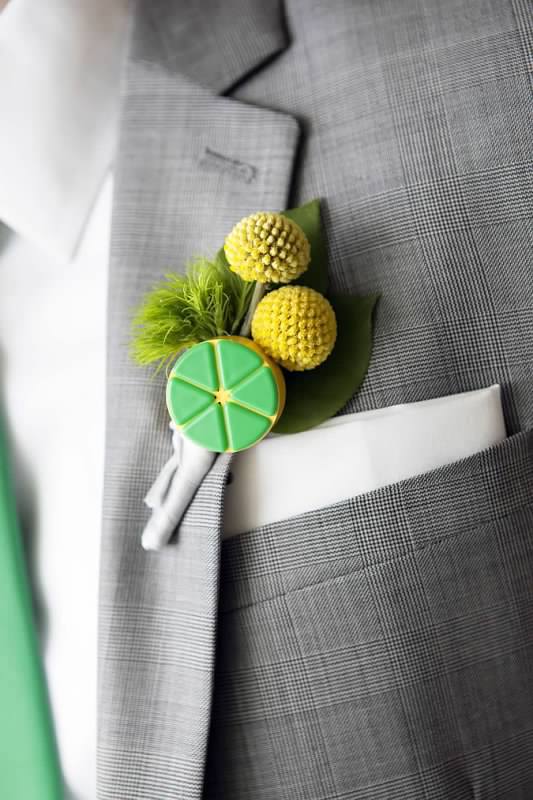 Dreaded requests?
"Extra set up time if there's a rehearsal the day before."

How do you handle clean up at your venue?
"Our coordinator picks up the trash and pulls linens at the end of the night. A breakdown team comes the next day, and our cleaning crew comes on Tuesday to do floors, bathrooms, etc."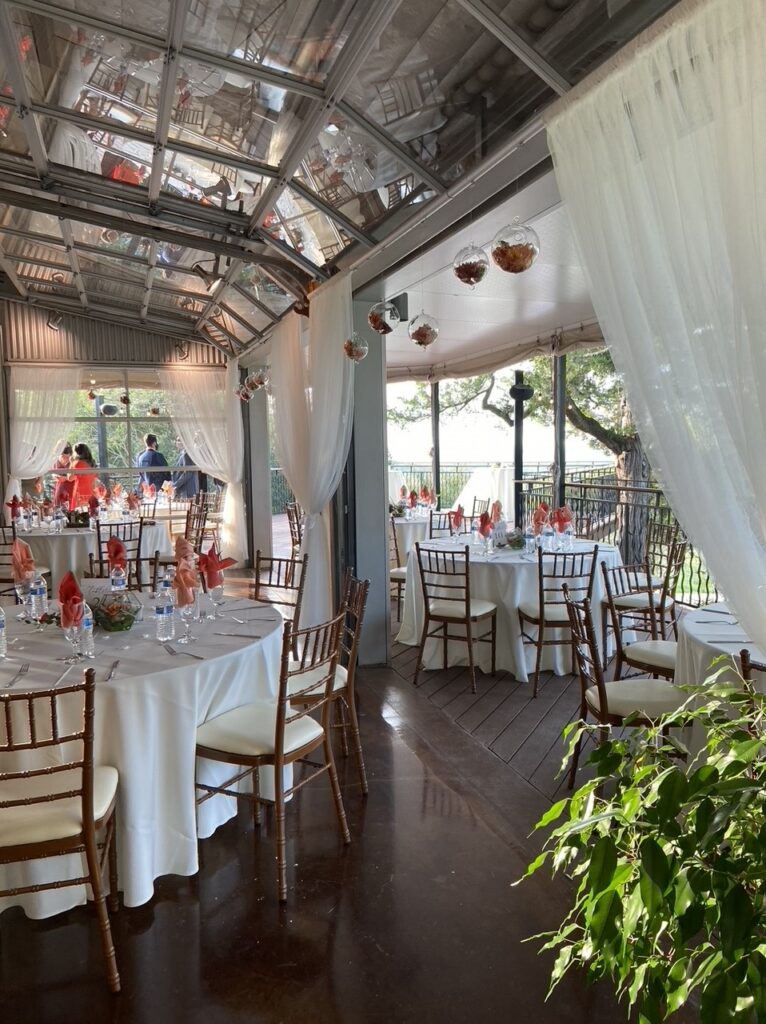 What time to does your day begin and end on a wedding day? How exhausting is the average wedding?
"Standard rental is noon to midnight, with music off at 11:00 and doors closed by midnight. We have a set up team that comes in to set up. On the day of, we check in a few times until the coordinator comes, then we're done for the night. It helps that we live next door to the venue. ;-)"

What has changed at your venue since you hosted the first wedding to the weddings you host today?
"No DIY since the first year. We added verbiage in our contract a few years ago clarifying that any rental monies paid are non-refundable. We limited bartending service to the provider on our list. The last couple years we've more clearly outlined food handling requirements j(by licensed and insured caterer or food handling company)."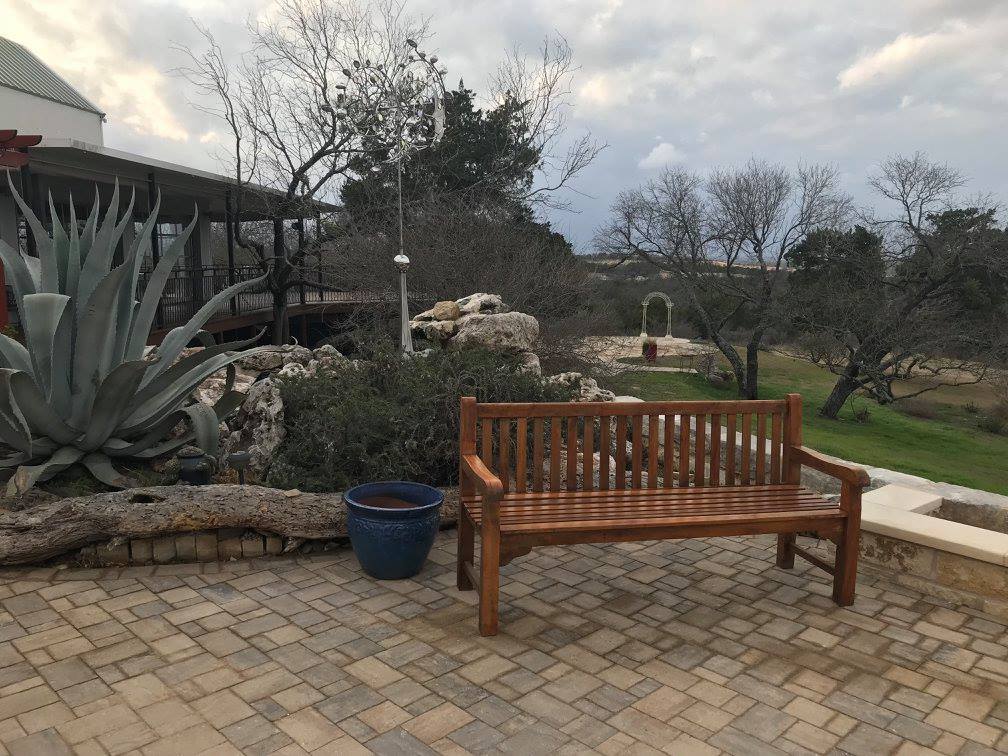 How have you changed as a venue owner from the time you hosted your first wedding?
"I'm less involved in the planning process and set up, unless I'm providing florals. I started offering florals to our couples a few years ago. I'm more tired than I used to be. LOL. But I' very happy with the business we've grown and to have been part of what is, for many couples, the best day of their lives so far."
Thank you so much Dory West for taking time to share your venue story with our wedding venue owners community and engaged couples who may visit our site. It's absolutely lovely to have the opportunity to learn about you and your gorgeous wedding venue. Our venue owners can learn so much from one another, as long as the information is shared and easily found!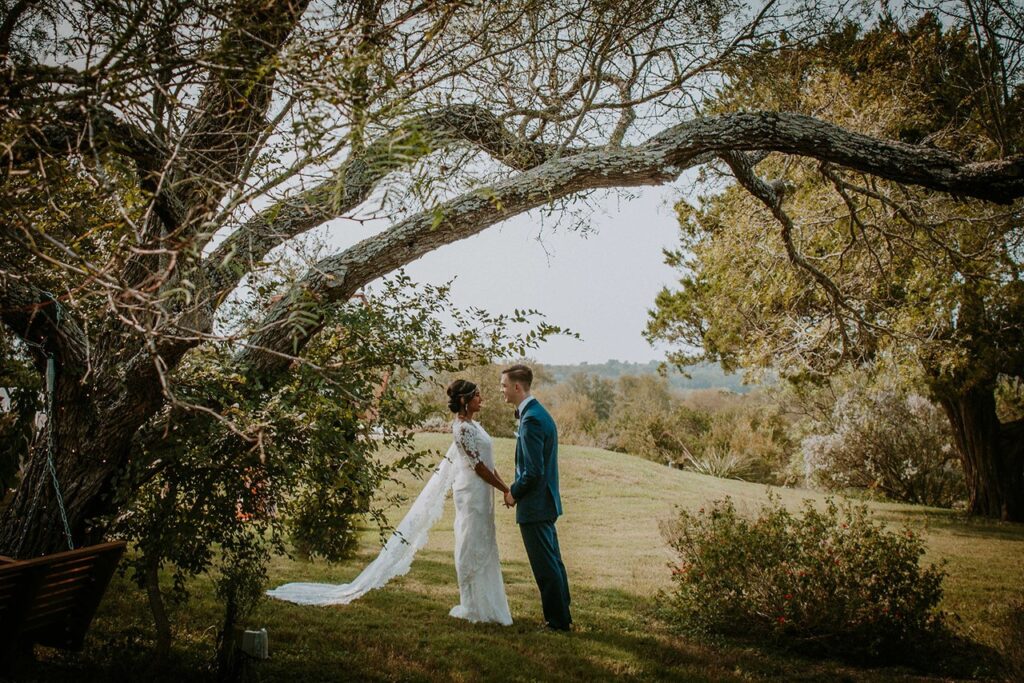 To contact Dory West for a wedding venue tour of TerrAdorna::
Dory West, Owner
www.TerrAdorna.com
(512) 585-9105
Facebook: TerrAdorna | Facebook
Pinterest: Pinterest
SPECIAL THANKS TO OUR INCREDIBLE PHOTOGRAPHERS!! These talented artists provide the gorgeous images you see in our BLOG and were kind enough to grant us permission to use their image. Please always be mindful to take time to visit their pages, thank them for their hard work and VENUE OWNERS a good relationship with experienced, talented photographers is a smart investment in your business! Support our local photographers every opportunity you get! Please leave comments below about the photos you see here today! #weddingnerd **If your image is used in any of our blogs and you do not have the proper photo credits please let us know so that we can link your photography business to your images.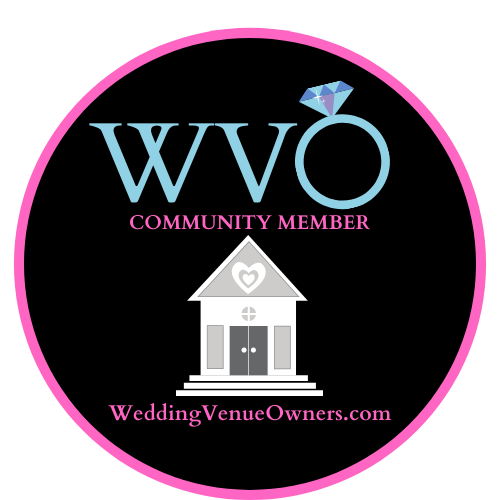 Sponsors provide only $10 a month and help to ensure that wedding venue owners have access to incredible information, resources, community, connection and industry best practices. Please consider becoming a sponsor today! didi@weddingvenueowners.com