Modern Weddings In The Biggest Small Town In America-Columbus OH.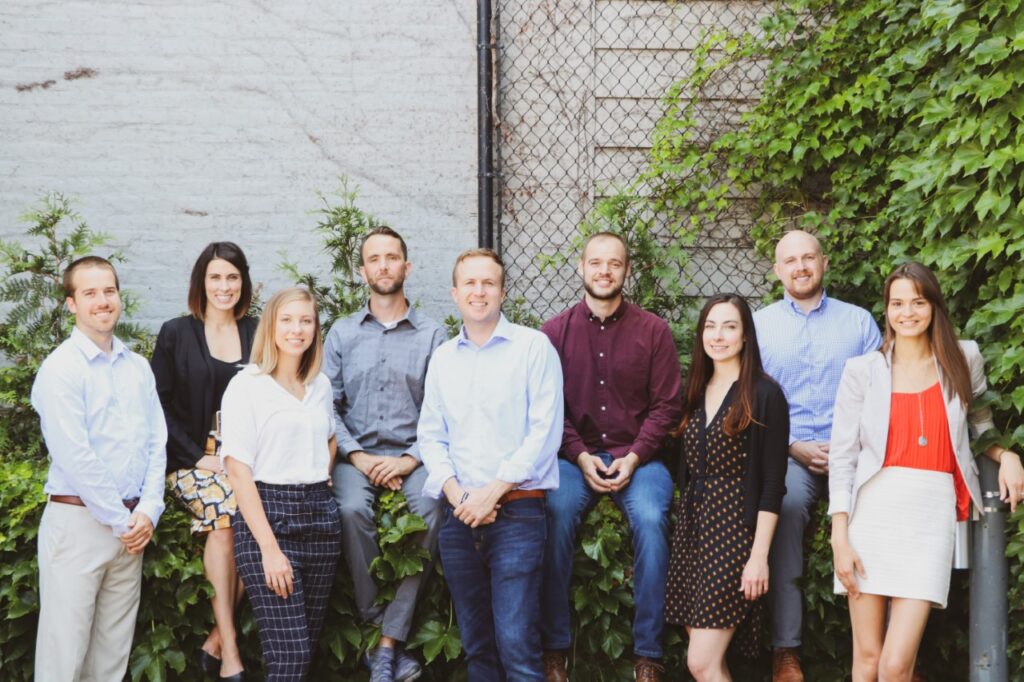 Vue Columbus, Wedding Venue Stories: This week we take a journey to beautiful Columbus Ohio and speak to Carl and Liz Seiley to find out what it's like to manage a wedding venue in Ohio. Vue Columbus is located on the edge of downtown Columbus in the Brewery District. This is our first Ohio wedding venue featured in the Wedding Venue Stories BLOG! Ohio has over 66,000 weddings a year, coming it at the 9th busiest wedding state. The average wedding in Ohio costs an estimated $21,000. The wedding industry is thriving in Ohio and venues like Vue Columbus are a great resource for wedding industry insight. So, let's get to our interview with Carl and Liz Seiley and find out what its like to be a wedding venue manager in Ohio.
As a venue manager, how did you get into the business of weddings?
"We were inspired to make a lasting impact in our local and global community by sharing our passion for events. We thrive in creating unique experiences which leave our guests and clients feeling energized right along with us. Innovative space design and use is such a huge part of why we love what we do, and why we wanted to bring an uncommon, refreshing space to the Columbus market! We also love working with a variety of clients and fellow vendor partners."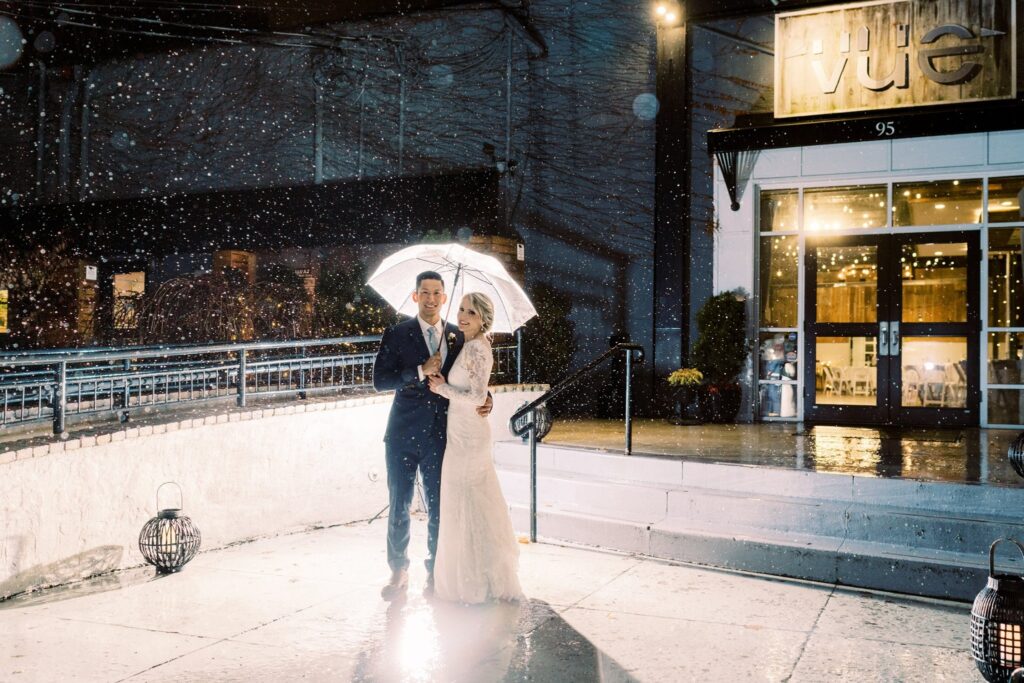 "We were also founded with cancer prevention as a core part of our mission. We operate a nonprofit called FLIP Cancer Now. Vue provides a home to FLIP and resources to further its mission. It was with the growth of FLIP and the warm welcome of our community that we realized Vue could be an amazing place to host a whole host of events."
How long have you been operating a venue? "We opened in 2013."
Become A Featured Sponsor on WeddingVenueOwners.com!
For only $10 a month you can increase your venue promotion on this site. Sponsorship goes toward advertising to couples & website costs. Contact didi@weddingvenueowners.com
Please share the story behind your venue name or how you came up with the name,Vue Columbus.
"Vue means "view" in French. With our downtown location being such a crucial piece of why we are unique, we wanted to pay tribute to our view of downtown with an interesting name."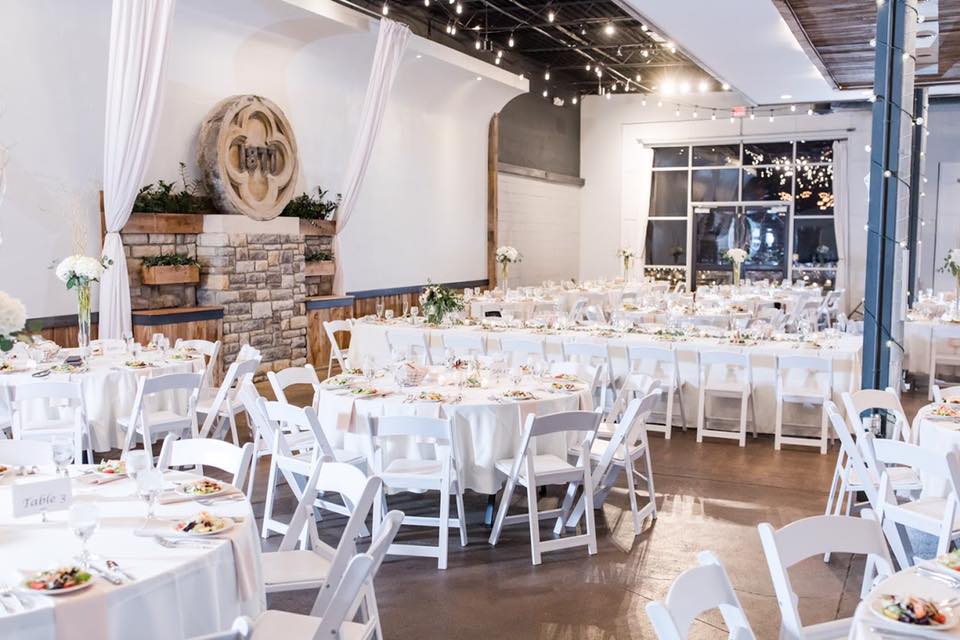 What do you like best about being a venue manager?
"Vue Columbus' innovative industrial space, prime Brewery District location and outstanding customer service have made us a sought-after event location in Central Ohio. What drives us is never-ending problem solving and our continual quest to improve. We love looking critically at our operations and offerings to better our business and, in turn, provide excellent experiences for our guests."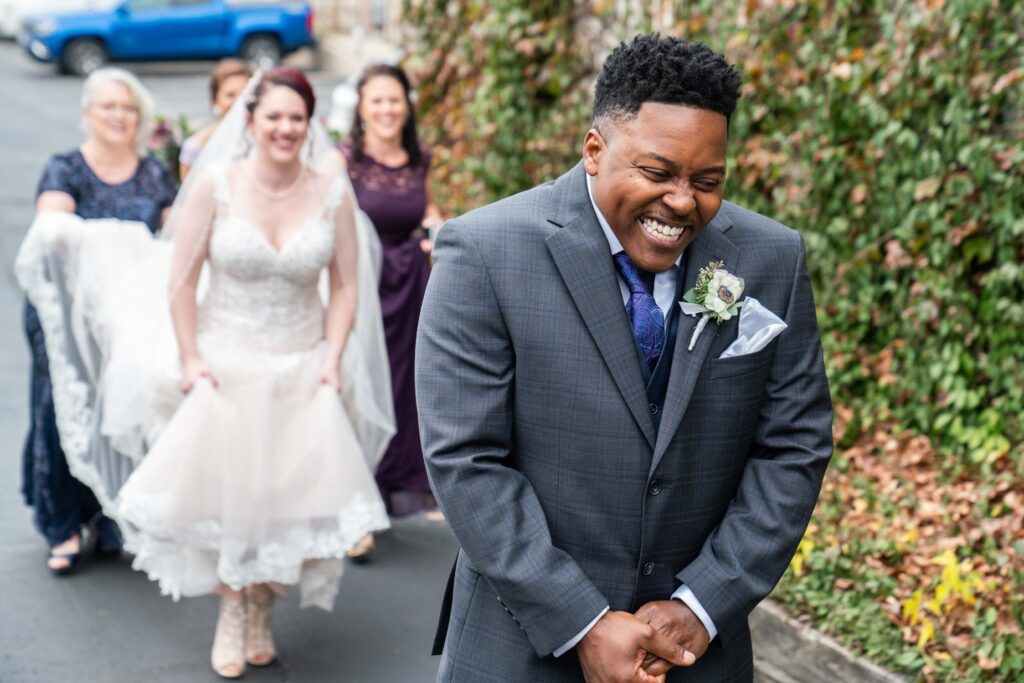 Do you have any tips on cutting costs on daily operations or any smart solutions you have for saving money (website, venue expenses, staff, adv, etc..)?
"We have always strived to adapt to circumstances as they present themselves. This has become even more imperative during the recent challenges of Covid. For years, we have put sustainability and environmentalism at the forefront of our business, and this has proven to pay off. We often use reclaimed and recycled materials to improve our space, and we rethink aesthetic updates with the unique approach of "how can we add a new element/feature with something we already have onhand?" Creativity and innovation go a long way in cutting costs! We've invested a lot in energy efficienciency, which was costly upfront, but we are very thankful for those savings now, especially this year. "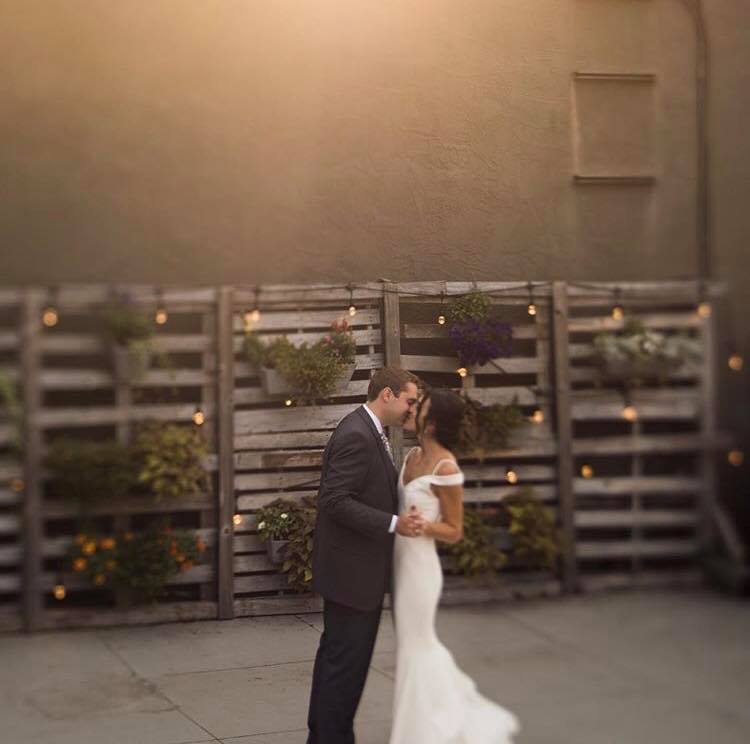 "Additionally, we are comfortable finding new ways to achieve the same excellence with fewer resources when necessary. We have had to take down some of our memberships to certain industry software. "
How many weddings do you host each year? "In a typical year, we host about 90 weddings."
ENGAGED COUPLES! If you need help finding your wedding venue head over to the wedding venue map to find venues in your area or check out our wedding venue gallery.
If you need help finding a venue contact didi@weddingvenueowners.com, for a FREE custom list of venues in your desired area, fitting your desired budget, guest count and wedding date.
What is your main source of lead generation?
"SEO is our main source of leads. This is followed by referrals from family and friends. Leads from The Knot, Wedding Wire, etc. follow after all those options."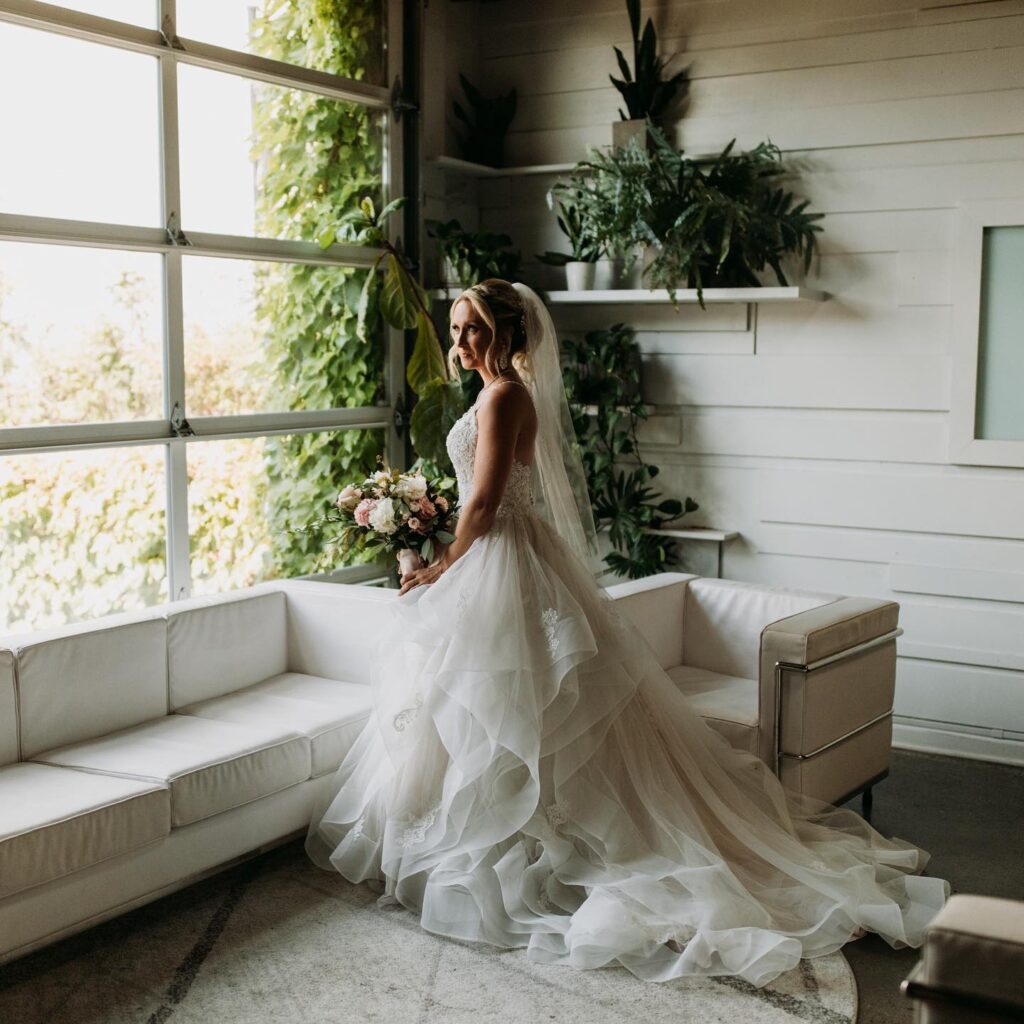 Tips on providing great venue tours for potential clients? What materials do you provide on tours?
"We provide a printed out packet which includes our package details, pricing and the catering companies we partner with. Complimentary coffee and mimosas are a special touch we do as well! We also have photo books on display, and we project a slideshow of diverse images of past weddings to give our touring couples plenty of inspiration! This also helps generate more conversation and questions throughout the tour."
Rumor Has It…These Columbus Ohio Wedding Vendors Are AMAZING!
Do you have a great website? Tips on website design or features that help you attract, book clients?
"We work hard to keep our website extremely user friendly, informative, and in line with our brand and mission. We don't want anyone searching for answers if we can easily provide them on the website. We list out what is included in each event package and have FAQ pages for our weddings, our social events, and our corporate events. In the same vein, every event is different, so we make inquiries a breeze providing an inquiry feature that interested clients can fill out through the website itself. (Clients can also inquire via The Knot, Wedding Wire, etc). In the last year, we've added a live chat feature to the website. "
"We also believe in illustrating all that our venue can do. With a space that can be transformed in so many ways and for so many types of events, we place a huge importance on website images to showcase how we can use the space in a variety of ways. The easier it is for a client to envision their event at Vue, the better! So we definitely suggest making one's website photos prominent and diverse."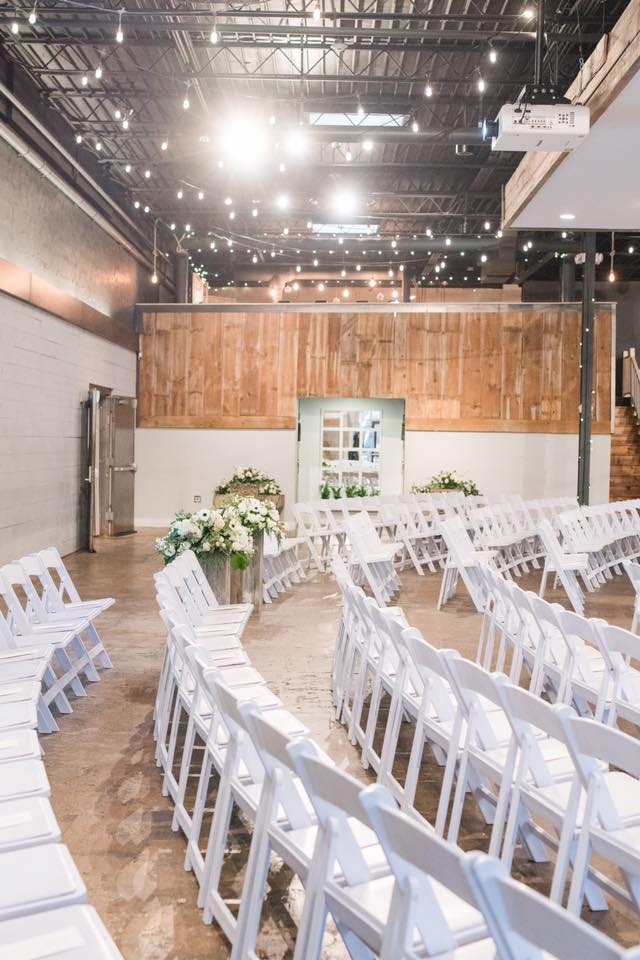 Building client relationships – how do you build up your client relationships? Any customer service tips or practices you can share?
"We do our best to keep the communication frequent and clear! When a couple books with us, we give them an upfront list of times they can expect to hear from us during their wedding planning. We want them to know that we will be an active part of their vendor team, and we find that providing them the specifics of when certain decisions need to be made (choosing additional rentals, scheduling rehearsals, etc) is very helpful! Over the many months it takes to plan a wedding and communicate accordingly, building up those client relationships is somewhat built-in. But we do our best to keep our interactions open minded and supportive, yet professional and assuring."
"We also love connecting with our clients post-event to reflect with them on the day and prompt them to share any feedback with us. Knowing if they were pleased and specifically what stood out to them is very important to us. We also send out a survey to couples who tour Vue but do not book with us. This provides insight into what might not be appealing to certain clientele, and we like to be able to assess where we can improve in our market or the way we tour prospective clients."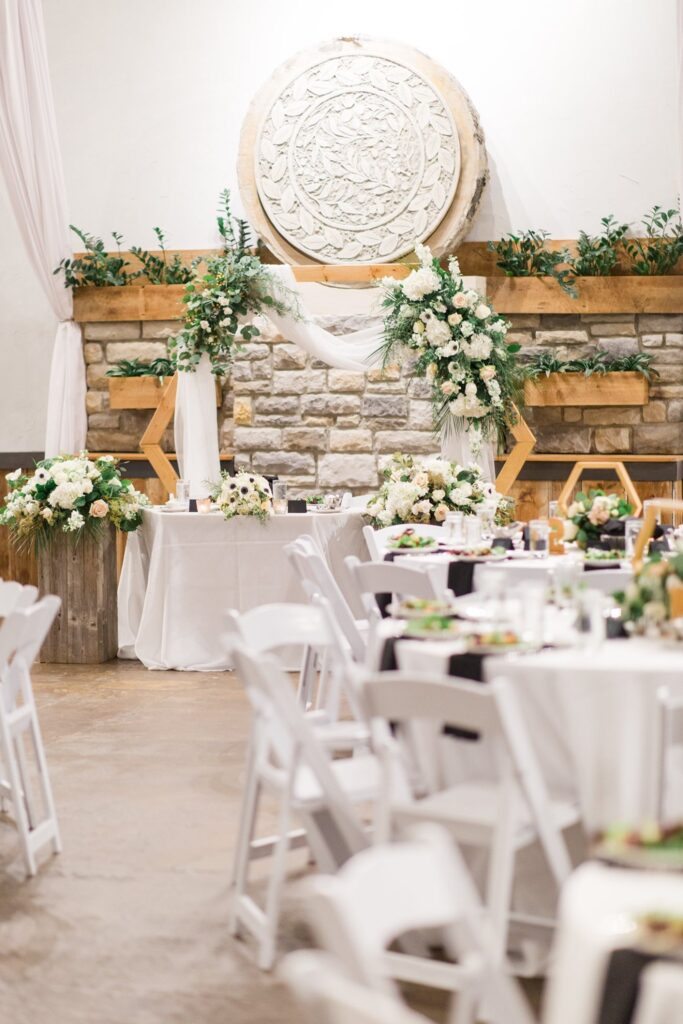 Do you have any thoughts or solutions to share regarding Covid19? Or maybe just share how Covid is impacting your business.
"Covid has definitely presented many difficult and unique challenges to our business. We have faced so much change in these months, but are pressing on with grace and understanding. We are doing our best to remain adaptable while also protecting Vue's future. This means having to make hard decisions, but we have every confidence that we will come out of this stronger than ever. We wouldn't still be here without the valued partnership and continued support of our amazing clients. We are so excited to celebrate our couples and host events in the most safe, genuine way we know how!"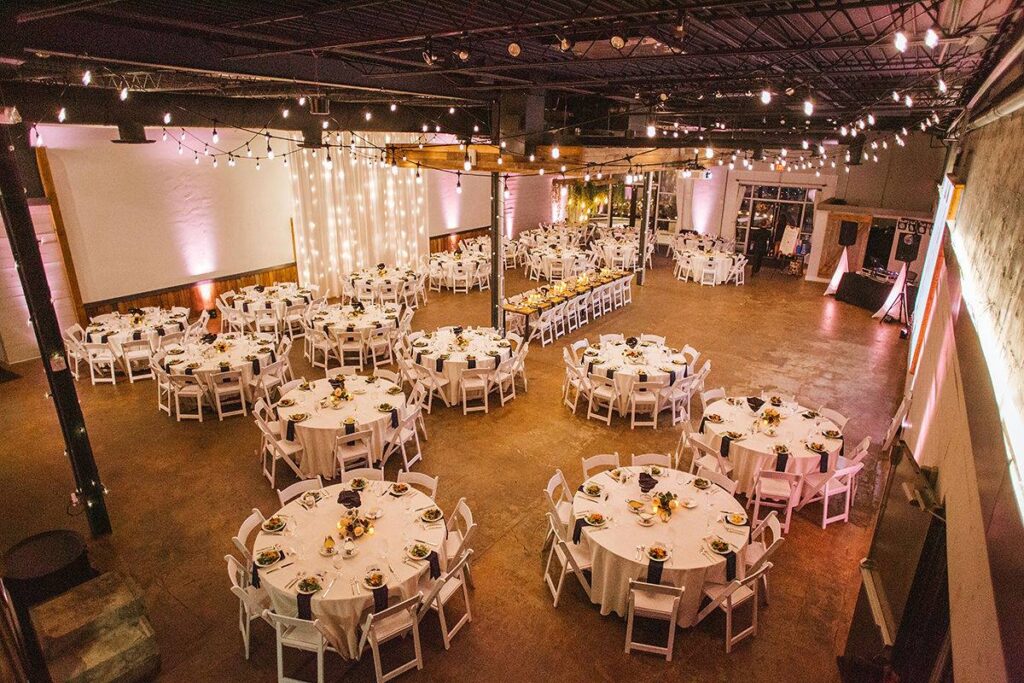 Any advice to anyone thinking of starting a venue?
"To scratch the surface of our advice…be ready to work! Have a vision that stands out from others'. Know your market and your audience. Be adaptable and ready to shift priorities at a moment's notice. Be confident and clear about your venue's offerings and able to seamlessly communicate to clients why you are the best option."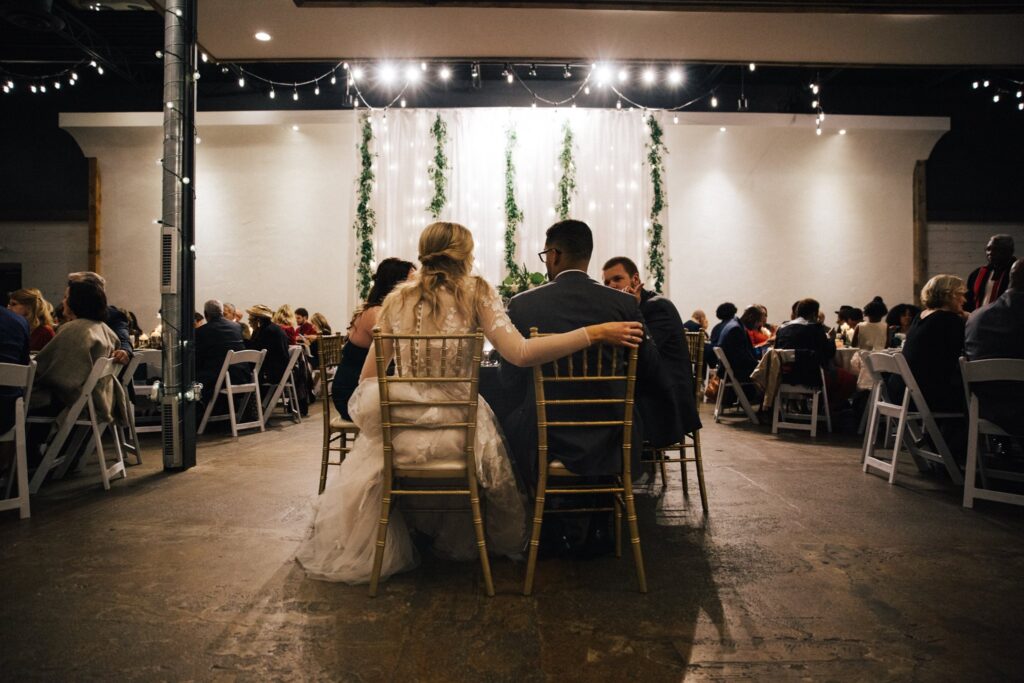 What are your couples top ten Fav parts/characteristics of your venue?
"Our couples tend to fall in love with our Green Room. This room is filled with natural light and tons of greenery both hanging and on walls/shelves. It embodies the full aesthetic of Vue, yet stands alone as a unique room within the building."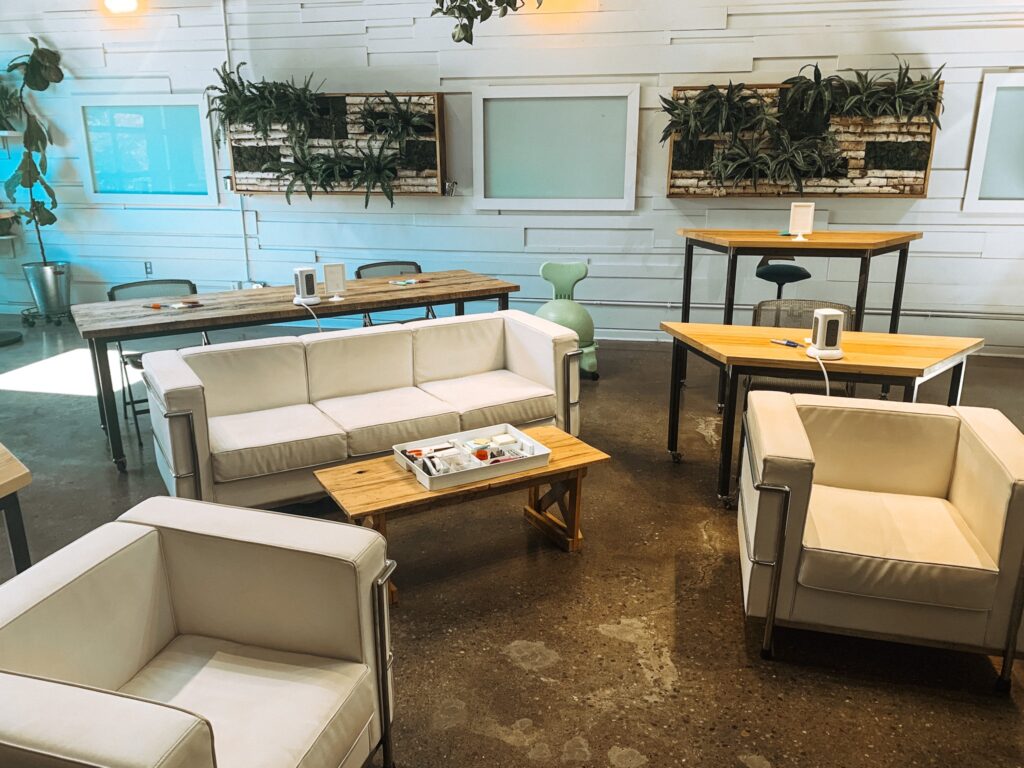 "Couples love Vue's tall, exposed rafter ceilings and how expansive the space is. We have the ability to host up to 280 wedding guests while still having plenty of room to not have to "flip" a room in front of any guest. This alone is a huge benefit to larger weddings."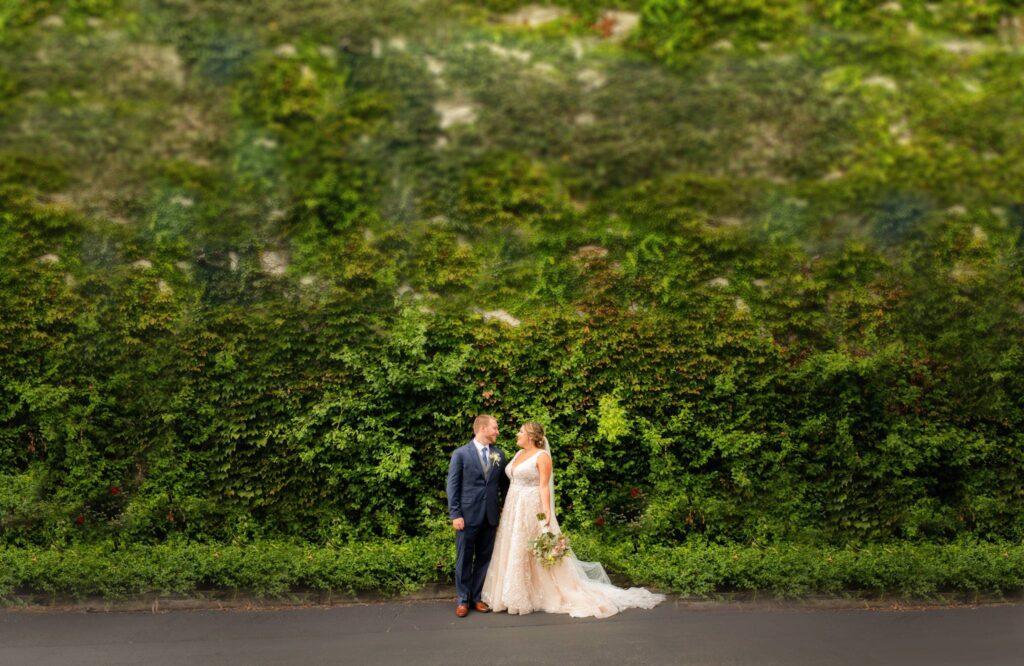 "Couples love that they can bring their own alcohol when hosting their wedding at Vue. This is not only a huge cost saver since there are no required minimums, but it also provides clients a chance to customize their bar in a memorable way."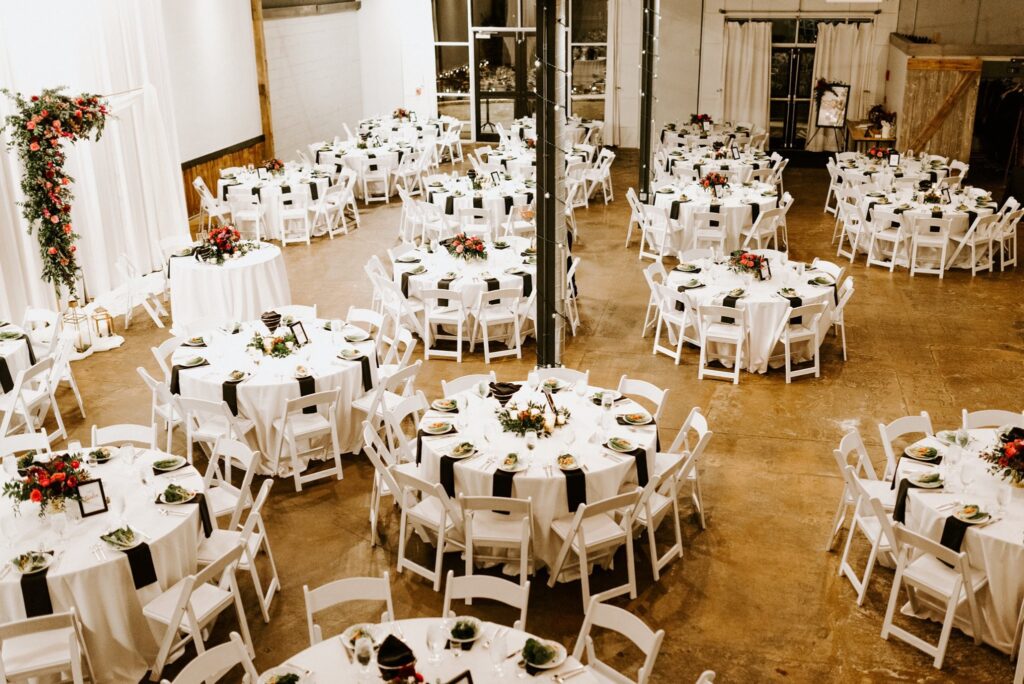 "Couples love the mix of furniture and options for layout in the space. We can achieve so many different set-ups solely with what we have onsite! Additionally, with some prep and planning, we can also accommodate outside rentals to make an event even more unique. The possibilities of wedding inspiration and execution are truly endless at Vue."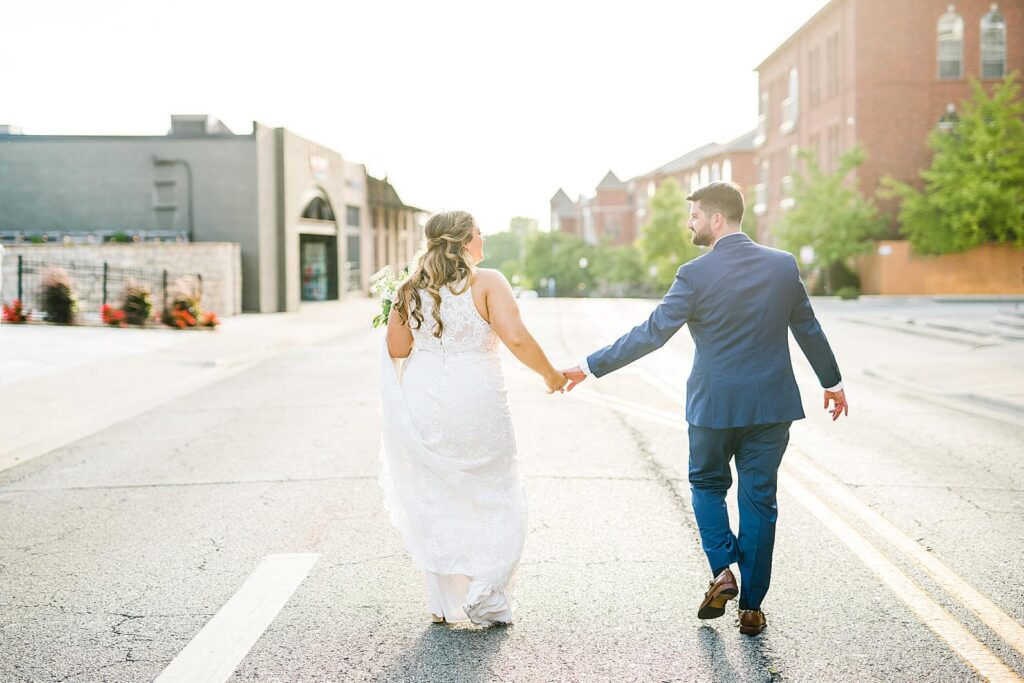 -Location! We are right in the heart of the Brewery District in downtown Columbus. We are a very quick walk or drive to numerous hotels, restaurants, bars, and other areas to keep guests entertained throughout any wedding weekend. Couples love giving their guests a look into Columbus, and there's no better place to show it off than having your wedding at Vue.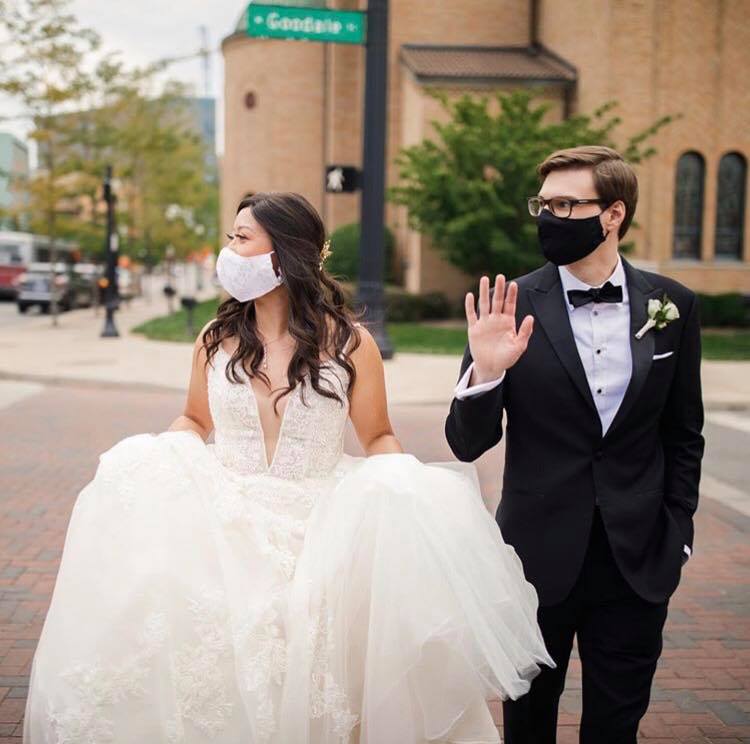 What are the top spots for shots around Vue Columbus?
Our Green Room plant corner
The chic yet industrial garage door
The large front patio. There is a great pallet backdrop decorated with seasonal florals year round.
The small patio, which features an ivy wall and a wooden bench.
In front of the Main Room stone feature
In front of the reclaimed wood "Vue" door
Our lounge areas in both the Green Room and in the Cocktail Room
The large ivy wall on the backside of our building
The surrounding neighborhood filled with brick and historical buildings
The cityscape backdrop visible from our front entrance!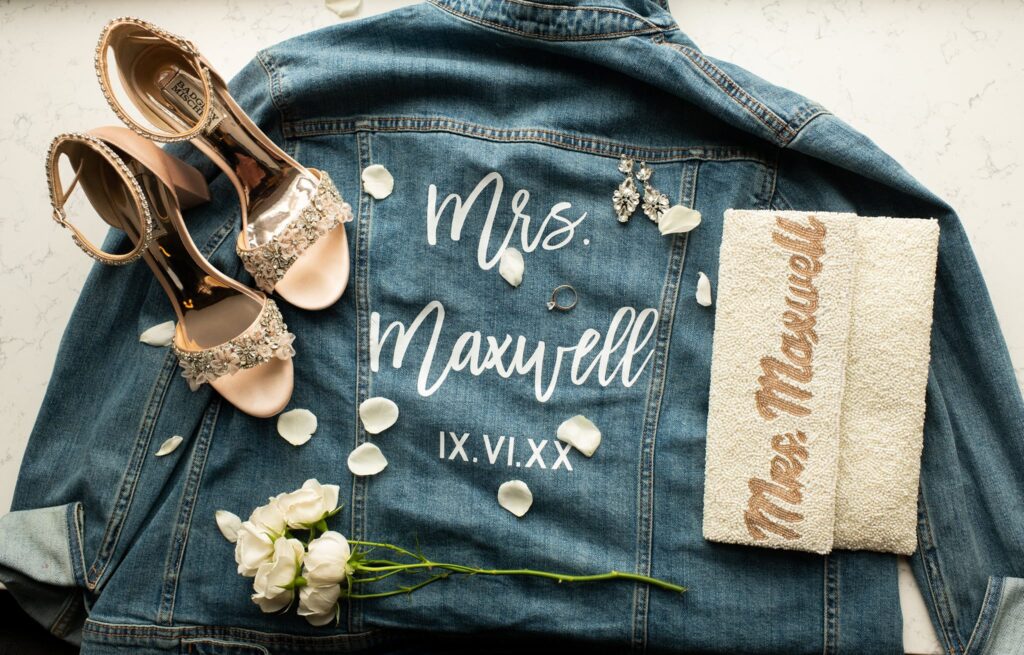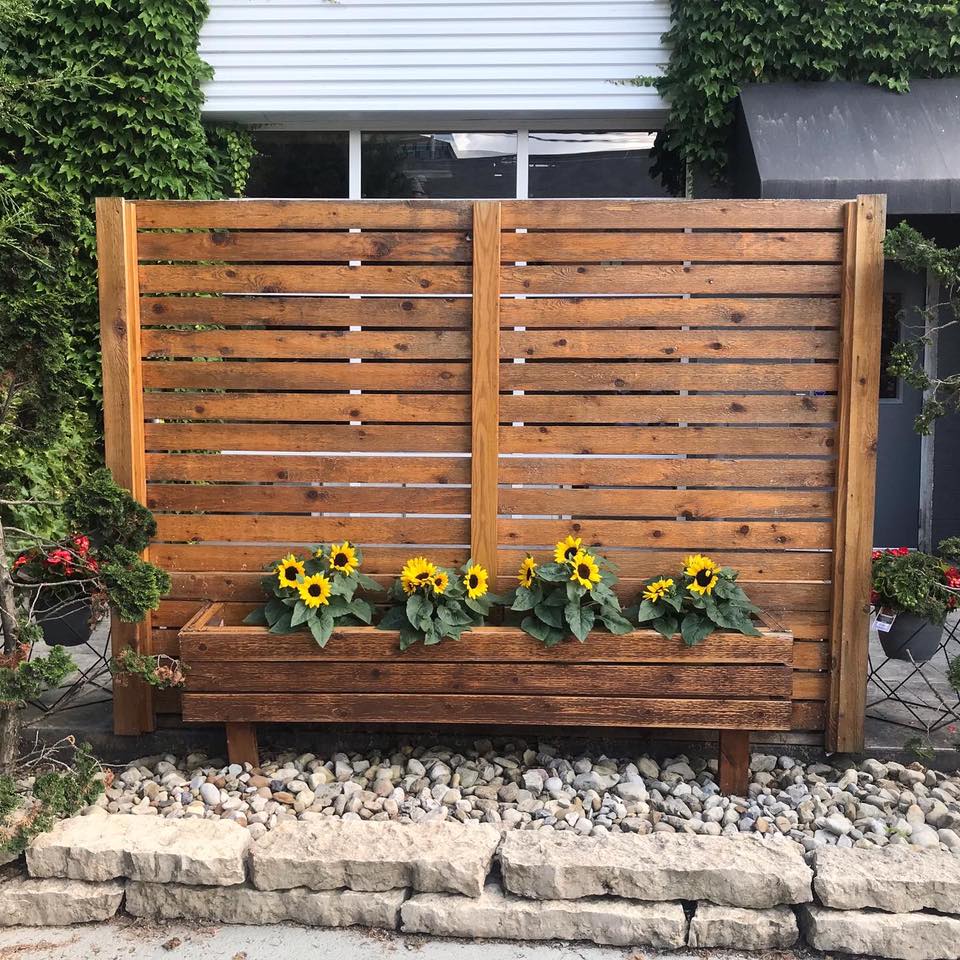 Can you share some details about the most unique event you have ever hosted?
"We have hosted a number of unique social events over the years, some of the most different are listed here"
–Cap City Half Marathon Packet pick-up which includes not only the packet pick-up for the race, but also gives runners a place to shop athletic wear, shoes, and accessories from sponsors and visit the other running-centric booths that are set up throughout the venue!
–Flying Horse Farms fundraisers, which have included extensive set up of rentals and linens, registration tables, coat check, full valet service, high-end catering, auction blocks, and even a firepit on our patio for guests to roast their own s'mores.
–Pelotonia meetings and fundraisers, which often involve a great deal of sound and stage set up and working with their audio and production team to make this seamless. Marketing of their organization throughout the venue is also a huge part of hosting our friends at Pelotonia.
–Start-Up Week, which gives small businesses and start-ups a platform to share their history, advice, and connect with other businesses in the community. This is an enlightening week of events that we've been honored to host multiple years.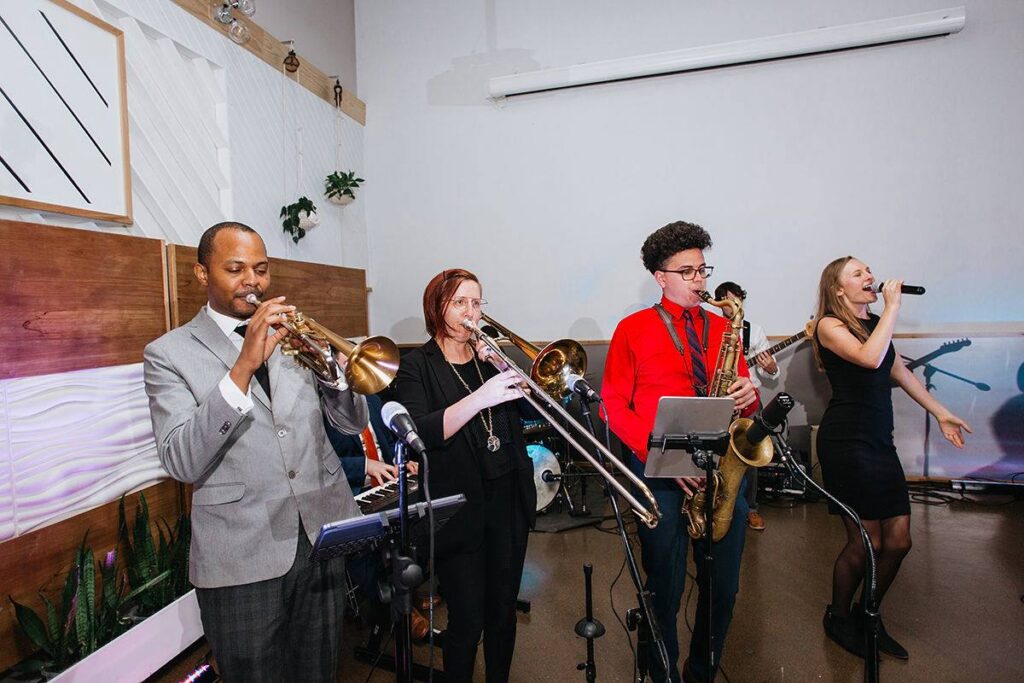 "Specific to weddings, we have had a wedding bring in The Ohio State University alumni band as a surprise musical performance. Brutus the buckeye mascot has also come to surprise the bride and groom during the best mans' speech. The reactions on everyone's faces was priceless!"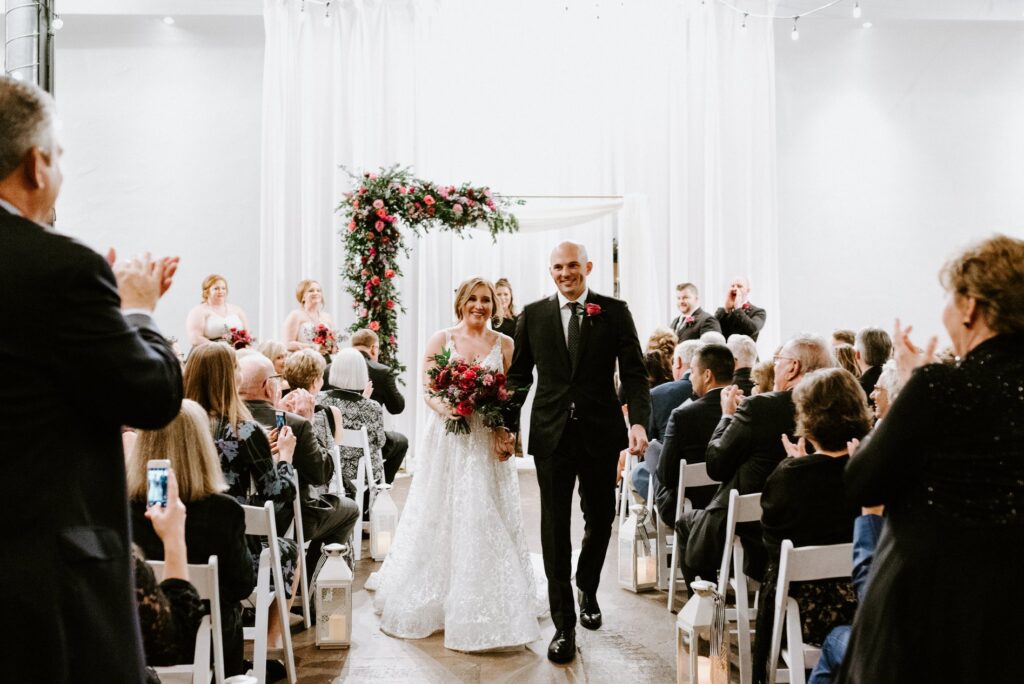 "We have also seen some very amazing incorporations of couples' interests and backgrounds. To name just a few memorable moments, we have seen: traditional Nigerian and Indian wedding dances and garments, sorority and fraternity chants and songs, Harry Potter cakes, Disney cookie favors, self-serve gourmet coffee bars, handmade origami floral arrangements, and sign in hockey jerseys in lieu of sign-in books. We love when couples put their own spin on any wedding celebration!"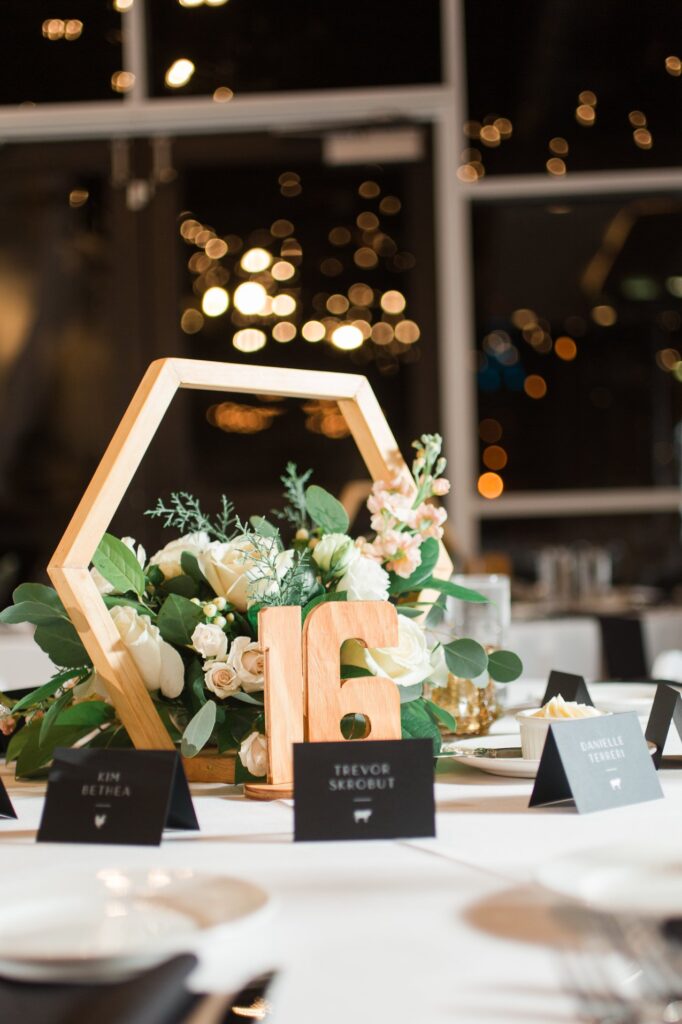 PHOTO CREDIT FOR BOTH IMAGE HERE (top and bottom) Starling Studio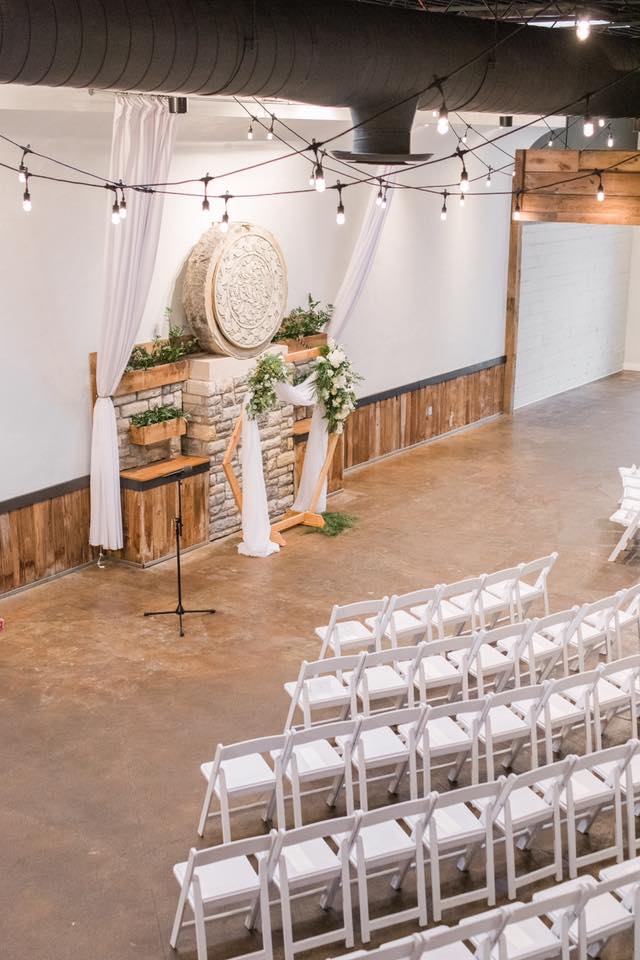 How do vendors load into your venue?
"We have a front driveway in which we reserve two lanes of parking for our event vendors. We communicate with the vendors directly, providing them a map of the front driveway so they know exactly which spaces they can unload from. Driveway signage is also visible, and the load out area is just steps away from our front entrances. There is also a ramp which makes heavier equipment easier to maneuver into the venue."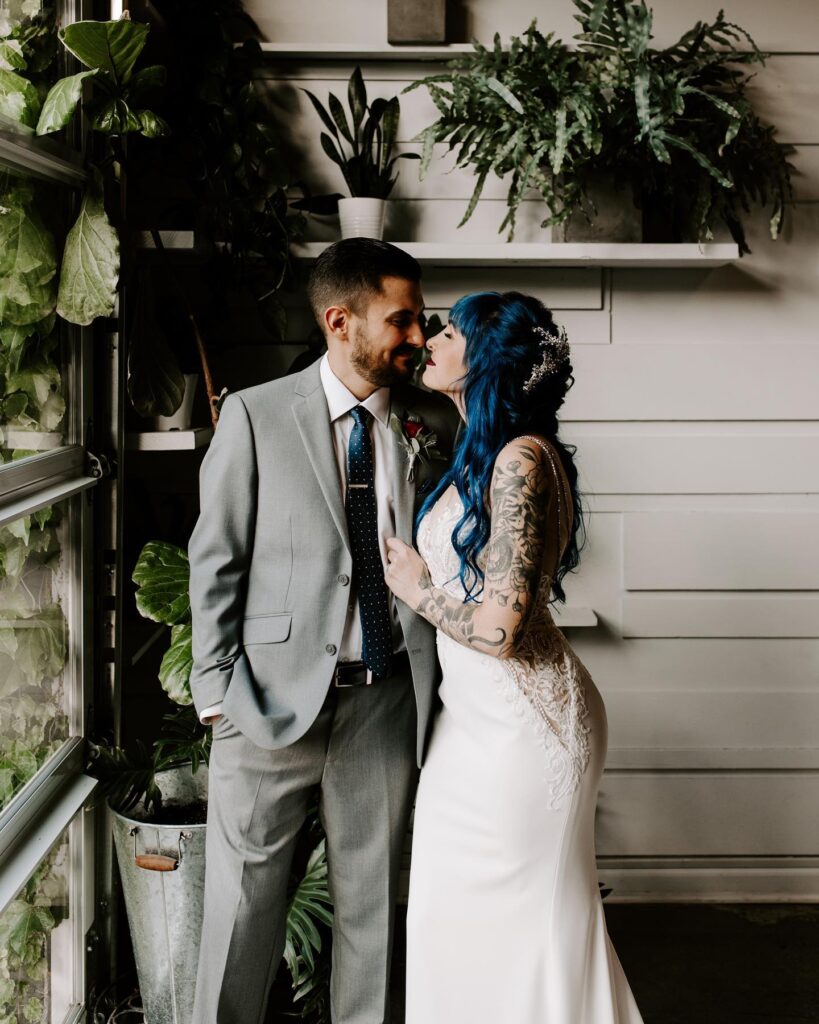 How is parking handled?
"We work closely with the parking company to reserve a lot right down the block for our weddings. This is a huge advantage for our clients since we are a downtown venue and parking can be tricky to find. The lot affords guests plenty of space to park, and is a very quick walk from the front doors of Vue! Not to mention, this is part of our wedding package we take care of securing parking on their behalf."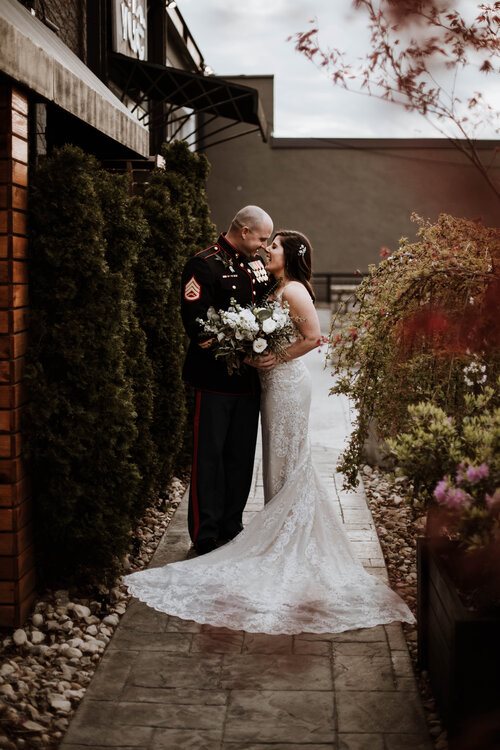 I want to extend a sincere "THANK YOU" to Carl and Liz Seiley venue owners and to Michaela Neu Barteldt venue management for taking the time to share Vue Columbus with The Wedding Venue Owners & Managers Community. This information is so helpful to our owners and managers as they navigate the rough and exciting waters of wedding industry management!
If you would like to contact The Vue to schedule a venue tour you can call 614-454-1877, the venue is located at 95 Liberty St.Columbus, Ohio 43215. You can find The Vue Columbus listed on the Wedding Venue Search map.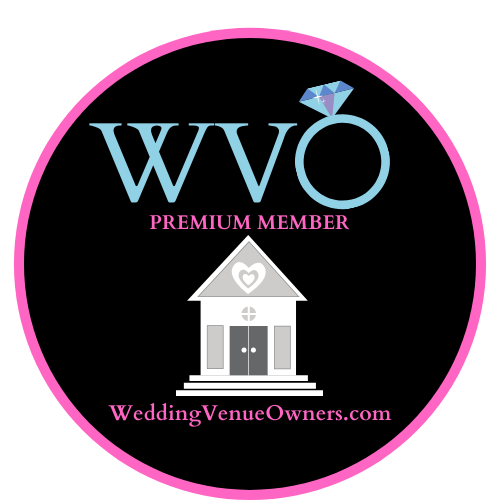 Are You A Member of the Wedding Venue Owners Community on Facebook?
Just CLICK HERE TO JOIN over 3300 active wedding venue owners and managers connecting, sharing and supporting each other.
SPECIAL THANKS TO OUR INCREDIBLE PHOTOGRAPHERS!! These talented artists provided the gorgeous images you see in this BLOG and were kind enough to grant us permission to use their image. Please always be mindful to take time to visit their pages, thank them for their hard work and VENUE OWNERS a good relationship with experienced, talented photographers is a smart investment in your business! Support our local photographers every opportunity you get! Please leave comments below about the photos you see here today! #weddingnerd